Description
Curry Networking Night in Salisbury with FSB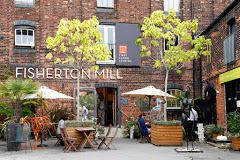 This event will be held at award winning Fisherton Mill Gallery and Cafe
As a busy entrepreneur, you have probably attend a number of networking events and understand the benefits of meeting other local business owners., but sometimes it can be too much like hard work particularly if you do not like standing up and talking to people about your business.
This FSB curry evening has been designed to provide the opportunity to have all the advantages of meeting and talking to potential contacts but without a formal agenda or structure, just a pleasant evening of chat, networking and great food.
FSB members can attend at preferential rates and there is the opportunity of bringing a guest who doesn't need to be a member of the FSB
Cost: £20 for member plus 1 guest
£10 individual member
£15 individual non-member
Curry Night Menu
• Marinated chicken fillets with chilli, garlic and coriander
• Spiced chickpeas with aubergine and spinach
• Flatbread with garlic
• Steamed basmati
• Roasted carrots and cauliflower with turmeric, lemon and parley

Parking - Free in central car park after 6pm (Mill Street Approach, Salisbury, SP1 3SL)

It is essential to book your place on Eventbrite. Whilst we will always try and accommodate you, these meetings are very popular and if you do not reserve a place we do not want to disappoint you. Also why not take a look at the attendee list Eventbrite provides so you can plan your networking.
We look forward to welcoming you.
Dan Collins
Chair
Salisbury Branch