Event Information
Location
Priory Rooms
40 Bull Street
Birmingham
B4 6AF
United Kingdom
Description
7 Steps To Networking Your Way To Personal & Business Success In 2014!
No matter what you do, whether you are building your own business, or you work for a company, it's your network that is going to help get you from where you are to where you want to be. You never know when you might change careers, or change the path you are on to go and do something different.
When we try and go it alone, we make the journey so much harder. Plus, we limit ourselves and our success, and who wants to do that?!
If you are a networking novice, or an old-hand I'm going to show you how to build your network naturally and authentically PLUS it's going to feel like fun! You won't even know you ARE networking whilst you are building a genuine and STRONG network.
When people hire you or buy your services and what you offer, 90% of that is down to people knowing you and liking you and trusting you.
Over the years of being in business, I've seen it time and time again and experienced it for myself. 90% of people who work with me have met me, online or in person, and got to know me. It's the same for you!
Through building my network, I've had the chance to work with some amazing businesses.
This didn't happen by chance. It's got nothing to do with luck. It's all down to people. People meeting me, knowing me, talking about me, recommending me. It's the same for you!
Learn how to increase your chances of success with my top tips from my experience and what I have seen and learnt over the years. Your skills and knowledge will take you so far. It's your personal network that will take you the rest of the way.
Here's what you will learn in this half-day course:
Step 1. The single biggest mistake nearly everyone makes when it comes to building their personal and professional networks

Step 2. How to create a plan of action to help support your goals before, during and after events

Step 3. How to increase your odds of getting more YESES to your requests and learn who to connect with to get the best results

Step 4. How to get organised, stay organised and how to ditch that pile of business cards in your desk draw! Plus I'll give you my personal, and free, system for managing those cards and keeping in touch.

Step 5. Ettiquette and how-tos; practical advice to make your time spent networking more fun and less stressful.

Step 6. Developing a networking backbone. This backbone is what will support you and give you a bolster and sometimes a lifeline you can always rely on
Step 7. Creating a plan for business and personal networking success in 2014 so you don't stay stuck in the same place and you keep moving towards your goals
This training is for you if:
you are ready to set yourself up for success in 2014

you are going to networking events but not getting the results you want

you know you should be networking but you just haven't had time to figure it all out yourself

you are serious about building a strong and powerful network that will support you not only in 2014 but for life!

you are just starting out and you want short-cuts that you can implement straight-away
About your trainer: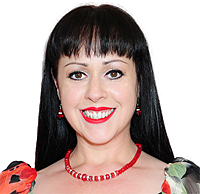 '
Social media and business success for daring entrepreneurs
Karen Strunks has been a small business owner for 6 years and embraces social media for work as well as play. Regularly interviewed in press, radio and tv she has been invited to speak at conferences and universities.
She is dedicated to engaging people, bringing online ideas to life and creating offline participatory events. By embracing social media she has connected people from all over the world. With a sparkling track record in successful online community engagement and a proven ability to work with companies to boost their social media impact, Karen has worked with brands such as Water Aid, Four Seasons, BMI, Belfast and Prague Tourist boards, bmi baby.
'I live and thrive on social media, the world of business and helping others to do the work they love.' Website @karenstrunks Birminghamsmc.com @birminghamsmc
Date and time
Location
Priory Rooms
40 Bull Street
Birmingham
B4 6AF
United Kingdom