Networking for Health & Wellbeing Professionals
About this event
Wonderful World of Wellbeing Networking
Continue your networking with people who get you and understand the importance of our wellbeing industry. Never before has health and wellbeing being at the forefront of everyone's life
This is your time to shine! Suitable for health, wellbeing, and business support services.
Engage, Explore, Create meaningful connections with like-minded professionals in the world of wellbeing and associated support services for our industry.
We have a fabulous group of individuals who consistently transact B2B and beyond. We are pretty relaxed and casual on coming together, yet each takeS our business and that of others seriously. This is an evening like no other an opportunity to share your offerings, collaborate, build solid business relations, and cultivate the possibilities of integrating your unique offerings with other professionals from around the country and beyond.
You will have the opportunity to present your business offering in a 60-second pitch.
Share your business card details
Shine bright in your 121`s
Business spotlight presentation
The transcript details are shared after the meeting.
Make those essential new connections. Our tribe is welcoming, professional, and supportive. If this resonates with you, you are welcome to join
Guest Speaker: TBA
Ticket sale ends 6.30 pm Monday 26th April
www.wonderfulworldofwellbeing.com
Get Social with us:
Facebook: https://www.facebook.com/wonderfulworldofwellbeing
Facebook: Networking closed group Health & Wellbeing: https://www.facebook.com/groups/1143018099078125/
Open group: all-inclusive where you can connect with members of the public and view our showcasing guest businesses from WWoW-Online. https://www.facebook.com/groups/891616110941411/
Insta: dianemitchellwwow
Twitter: @WWoWellbeing
Email: wwowellbeing@gmail.com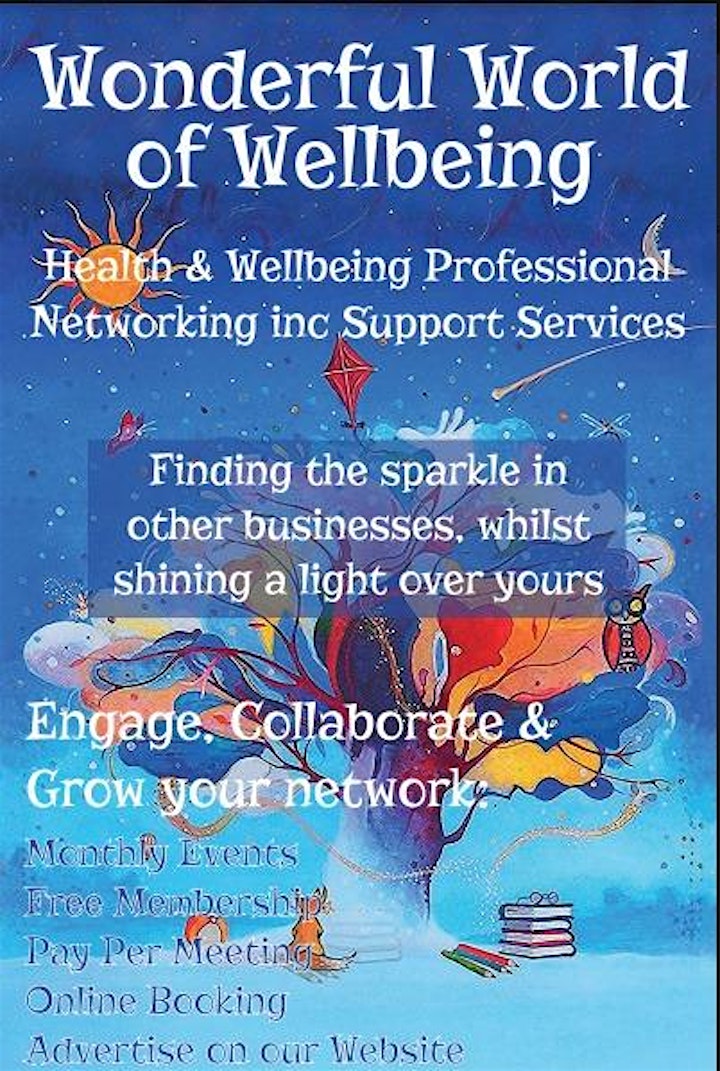 Date and time
Location
Refund policy