Networking for Health & Wellbeing Professionals
About this event
Welcome
There is no coincidence you are here.
If you are looking for the opportunity to promote yourself and your wellbeing business to other business owners, you are in the right place. The world of business is a busy place, if you don't show up, how will the other businesses get to know what you offer? How will they ever be able to become your cheerleaders and refer your business to others if they have never met you?
This is your time to shine! WWoW Networking is suitable for those operating in the field of health and wellbeing. Business support services, those linked to the backbone of wellbeing businesses are also welcome to join us - we need services to help run our business smoothly and efficiently such as; graphic artists, VA's, Web developers, Seo experts, printers, etc...these business types are invited to join this meeting
You'll have the opportunity to tell people who you are and what you do. Right now there could be business owners who need your services but they just don't know yet. They don't know you!
Explore, Engage and Create meaningful connections with like-minded professionals in the world of wellbeing and associated support services for our industry.
We are a bit biased, yet proud to shout about our business networking community. They are simply fabulous people, down-to-earth, business owners just like you! They consistently transact B2B and beyond. We are pretty relaxed and casual on coming together, yet each takes our business and that of others seriously. Belonging is a good sense of what we are about. We expect you to feel this way too.
Our rules of engagement:
- Zero membership fees
- Pay-as-you-go
- Ticket options that save you ££
- PoPuP mini showcase stands avail
- Our networking space is huge, plenty of room for respectful social distancing too
What is there not to love about how we do things?
ARE YOU JOINING US?
This is an evening like no other. Here you have an opportunity to share your offerings, collaborate, build solid business relations, and cultivate the possibilities of integrating your unique offerings with other professionals from around the county and beyond.
• Introductions, presented by Diane Mitchell, WWoW's founder
• You'll present your business offering in a 60-second pitch.
• Share your business cards & promotional material
• Open networking
• Focus 121`s
• Business presentation - The guest speaker : TBA
• Make those essential new connections. Our tribe is welcoming, professional, and supportive. If this resonates with you, you are welcome to join
• Includes Tea & Coffee
EACH guest gains auto entry into a FREE DRAW - you could win a networking entry pass and PoPuP showcase pass for the next meeting -BOOK NOW!
Ticket sale ends at 5.00 pm on the day of the meeting
Get social with us:
Facebook: https://www.facebook.com/wonderfulworldofwellbeing
Facebook: Networking closed group Health & Wellbeing
Facebook Open group: all-inclusive where you can connect with members of the public and view our showcasing guest businesses from WWoW-Online.
Insta: dianemitchellwwow
Twitter: @WWoWellbeing
WWoW Networking Face-2-Face is hosted by: Diane Mitchell, Founder; Wonderful World of WellbeingFind out more about WWoW by visiting our website
Proudly collaborating with SBF; Spelthorne Business Forum & Co-Tribe
We look forward to seeing you there
© COPYRIGHT: Wonderful World of Wellbeing. Diane Mitchell. 2017 – 2022 inc. No part of this listing or any other WWoW event listing or materials of any kind may be reproduced in whole or in part in any manner without the permission of the copyright owner. Thank you for your cooperation.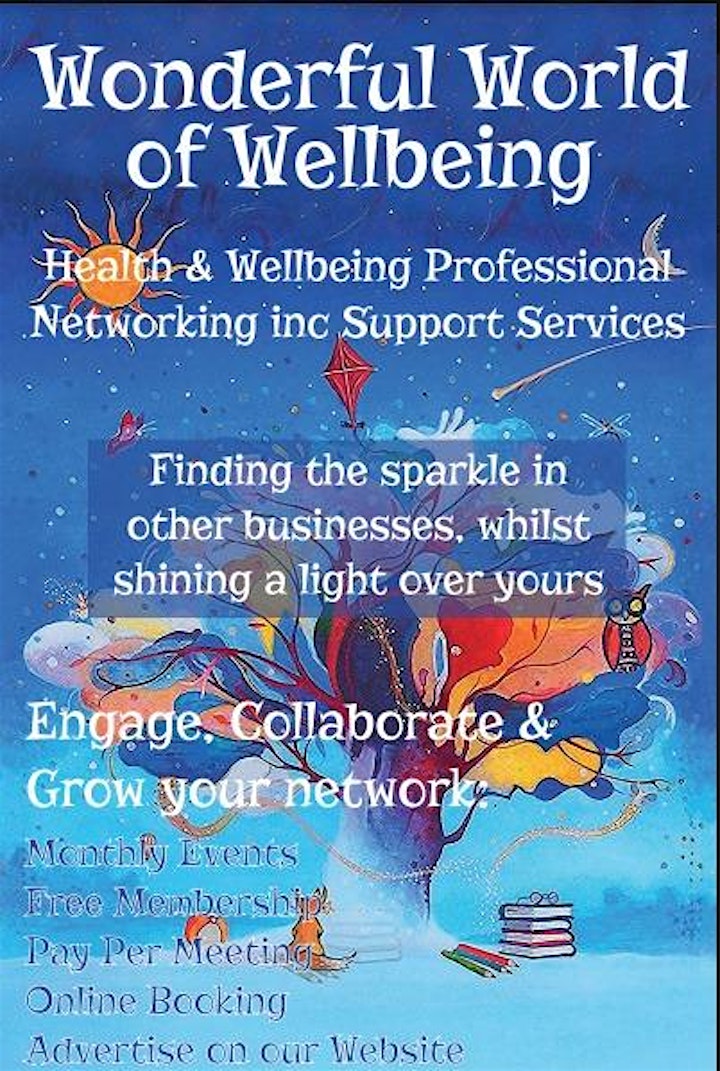 Organiser of Networking for Wellbeing Professionals-Face-2-Face
Helping people in unique ways, 
Wonderful World of Wellbeing includes networking for health and wellbeing professionals
Host to: Wonderful World of Wellbeing Expo.
Diane empowers individuals and groups alike to learn, develop and reinvent themselves to live a life of holistic magnitude - a full mentor program  
Diane Mitchell is a well-being expert. Working with individuals and groups facilitates instant change of mindset in a one-to-one setting.
Whether you're interested in meeting Diane in person, partaking in one-on-one therapy, attend their online networking it's safe to say that you're in great company. 
With an undivided drive to help individuals overcome their limiting beliefs, remove undermining thoughts, uplift their overall life and business, enabling positive change is what Diane and her powerful holistic organization do best.