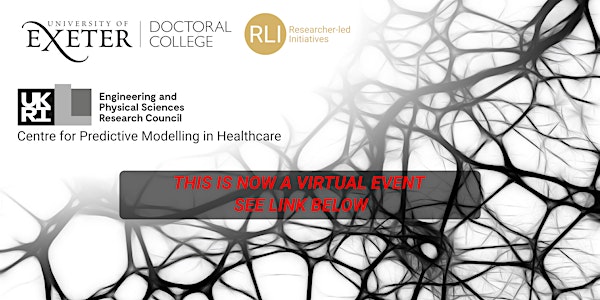 Networks Approaches for Healthcare Applications - Workshop
Event Information
Location
University of Exeter
Living Systems Institute (Seminar Rooms A and B)
Stocker Road
Exeter
EX4 4QD
United Kingdom
Description
This is now a virtual event - no registration required - go to https://nethealth2020.weebly.com/ for more info.
---
The difficulty of curing and treating human diseases is in a large part due to the huge number of entities involved in them, the dynamical evolution of these entities, the way they are connected between each other and the dynamical evolution of the connections between these entities. For these reasons, the "networks" approach is essential to understand pathologies in their entirety and build efficient intervention strategies for public health issues in oncology, neurology, or epidemiology, using network theoretical approaches.
For instance, detection of abnormalities in the growth of blood vascular networks would facilitate early identification of patients at risk of developing cancer. Understanding links between functional and structural properties of the brain would allow better strategies for the surgical treatment of epilepsy. And insights into temporal changes of the network structure of a population affected by an epidemic spreading are crucial for controlling it.

To tackle such problems it is necessary to develop methods to reconstruct the structures of networks from real data, investigate dynamical processes based on these structures, and the dynamics of these structures themselves.
This workshop aims at creating new connections between experts from the area of Mathematics, Computer Science, Physics, Biomedical Modelling, to address such problems.

Topics: Epidemic Spreading, Brain networks, Endocrinology, Gene networks, Protein interactions networks. Temporal networks, delay models, Data-driven approaches.
Speakers:

Alex Arenas, Universitat Rovira i Virgili (URV), Spain
Alain Barrat, CNRS and Aix-Marseille University, France
Manfred Claassen, ETH Zürich, Switzerland
Jessica Enright, University of Glasgow, UK
Marko Gosak, University of Maribor, Slovenia
Heather Harrington, University of Oxford, UK

Florian Klimm, Imperial College London/ University of Cambridge, UK
Marinho Lopes, University of Bristol, UK
David Rand, University of Warwick, UK
Serhiy Yanchuk, Technische Universität Berlin, Germany

Program outline (subject to change): click here
Organisers:
Camille Poignard
Kerry Hope
Piotr Slowinski
Peter Ashwin


Registration:
To register for the event please click the 'Register' button at the top of this page. The deadline for registration is 10th Mar 2020. Please note that the number of attendees is limited to 40 participants.

If you have any enquiries regarding the event, please email nethealth2020@exeter.ac.uk
Funding:
This event has been co-funded by the University of Exeter "Researcher-led Initiative" of the Researcher Development and Research Culture team, and by the EPSRC Centre for Predictive Modelling in Healthcare.

Please note filming, recording and photography may take place at this event.
Data Protection and Privacy
To aid organisation of this event, attendee information may be shared with relevant staff in the University e.g. a list of attendees could be provided to the University host, guest speaker.

We will store your information securely, so that we can communicate to you about the event (e.g. cancellation of event, changes to the itinerary, a satisfaction survey).

We delete our access to personal information on Eventbrite after 6 years.

More information on the University's privacy policies can be found here.

For more information on Eventbrite's own privacy policy, please visit this page.
Date and time
Location
University of Exeter
Living Systems Institute (Seminar Rooms A and B)
Stocker Road
Exeter
EX4 4QD
United Kingdom