About this Event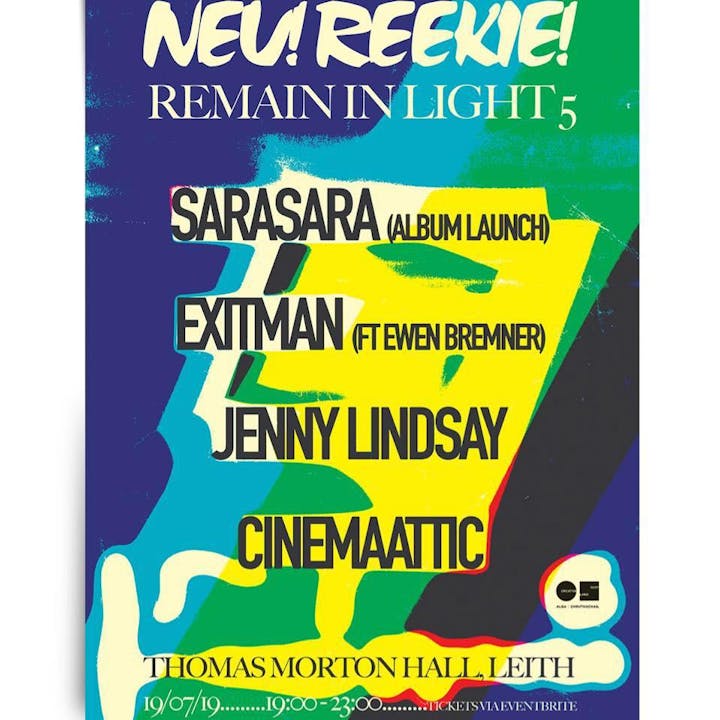 REMAIN IN LIGHT #5 is the fifth in the new season of shows from Neu! Reekie!
with live performances from
EXITMAN (featuring Ewen Bremner)
Live music from Exitman with Ewen Bremner on vocals and songwriting duties.This will be the band's first public performance. "The band has been thrown together just to do the Neu! Reekie! event, but we will be working towards recording together. We're trying to work out the sound and road-test it to get it into shape before going into the studio." - Ewen Bremner
JENNY LINDSAY
Poetry from the Edinburgh tour de force who has been one half of Flint & Pitch and before that Rally & Broad. Jenny will be performing work from her new poetry collection THIS SCRIPT which was published by Rhubarb Press in May
"One of Scotland's finest cultural innovators." (Gutter Magazine, 2015)
"Defiant, eloquent and inspiring." (The Scotsman)
S A R A S A R A
"Really unnerving in the best way." The Fader
"She could become an avant-scene star." The Quietus
"s a r a s a r a is a captivating creative presence" The 405
Boundary-pushing artist and producer Sarasara returns with captivating second album Orgone, out on 5th July via One Little Indian Records, co-produced with Liam Howe of labelmates Sneaker Pimps (who has worked on albums by Nülifer Yanya, FKA Twigs, Tom Vek, Lana Del Rey etc). 
Sarasara released her debut album Amor Fati to acclaim from The Fader, The Guardian, The 405 and more – as experimental as it is versatile, taking in elements of industrial electronica, trip-hop, r'n'b and breaks. Her latest body of work sees her explore further her unique breed of leftfield, avant-garde RnB, singing in her mother tongue, French, and dealing with suicidal thoughts, existentialism and meditation. She directly addresses the former on album opener 'Flatline', describing an incredibly difficult period she experienced. "I was stuck in very dark place after losing all grounding and certainty about the future, I was praying for somebody to come and save me. I am dedicating the song to the person who saved my life, literally, and became my best friend."
The enigmatic artist found peace through meditation, faith, and learning how to live in the present – a theme that runs consistently through Orgone. She sings about vulnerability, accepting yourself, and surrendering to things we have no control over. She says this was "a lesson I had to learn the hard way."
SITA PIERACCINI
Sita is performer and musician based in Glasgow. Her previous theatre works include Bird (Made In Scotland 2016) and Make A HOO (Scotland tour 2017).
E&N is an unrequited love song between flower and mountain. A new solo physical/visual performance which explores the story of Ovid's Echo and Narcissus through reflected landscapes, synthesised vocals and plant puppetry. Supported by Creative Fund, Puppet Animation Scotland. Sound by Ben Fletcher.
E&N is Echo and Narcissus explored in one body. A visceral retelling from the perspective of Echo and the transformative female gaze.
COURTNEY STODDART
Courtney Stoddart is a poet and singer passionate about dismantling hierarchy in all it's forms. She intertwines elements of historical, political and social discussion into rhythm and rhyme. Taking inspiration from the lyricism and format of old school hip hop and rap.