Neuroprogressive and Dementia Conference 2021, with a focus on our partners in research and speakers from Scottish universities
About this event
The NRS Neuroprogressive and Dementia Conference will take place on Friday 3 December 2021
The conference will run as a hybrid event offering delegates the flexibility to either attend in person or online. Places will be limited and a number of additional safety measures will be in place, following current guidance and regulations. Ensuring the safety of our delegates is priority.
The conference will cover a number of areas, including:
- the launch of the new NRS Neuroprogressive and Dementia strategy
- recent developments in neuroprogressive research
- voices and experiences of participants in clinical research
- introducing ENRICH (ENabling Research in Care Homes) Scotland
and much more!
Hosted in the historic National Piping Centre, this event will be a full day of learning, interspersed with a poster competition, networking opportunities and a delicious lunch. Registration is now open, though in person tickets are limited and will be allocated on a "first come, first served" basis. All tickets will be free, but once in person tickets are exhausted, the online streaming will be the only option.
Please note that as in person tickets are limited, and do come with a cost to the NHS, we ask that you do not book them speculatively. A waiting list will be maintained, so if you discover that you have booked more tickets than you need, please do get in touch so we might offer spaces to those able to attend.
If you would like to submit an academic poster for consideration at the event, please get in touch by 15th November (email tay.ndntayside@nhs.scot with your name and an abstract). Prizes to be announced.
The agenda (below) as currently stands is accurate, but may be subject to change.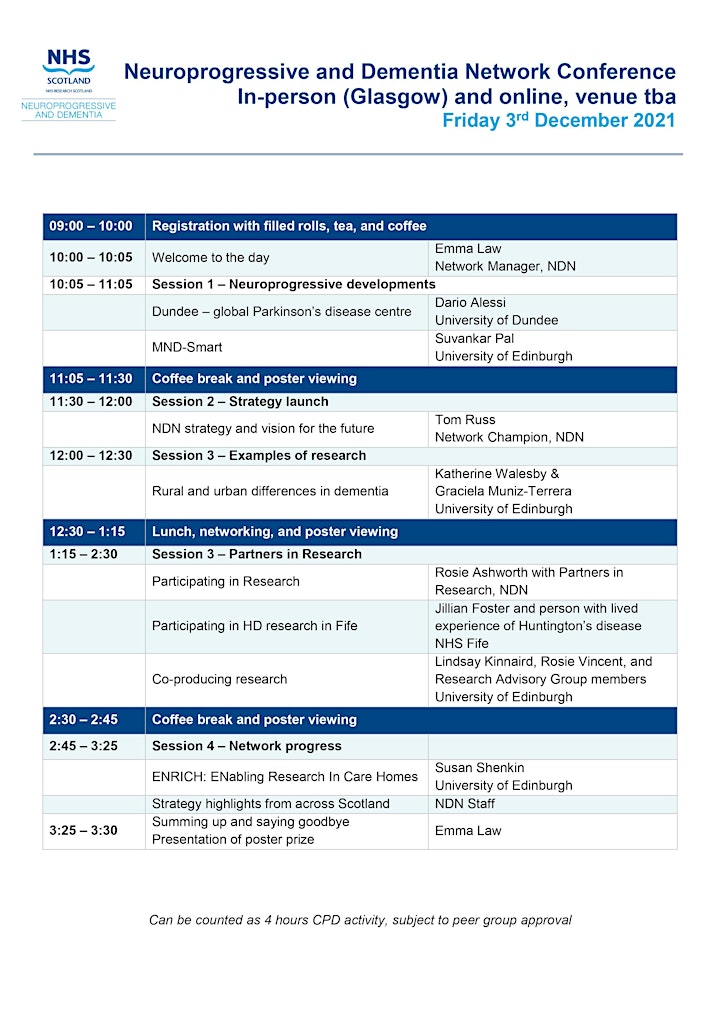 Organiser of Neuro-Progressive and Dementia Network - Strategy Launch