Description
*************************Only 50 Tickets Remaining****************************
Are you interested in medicine and surgery?
'Neurotheatre - Simulated Brain Surgery!' is back due to popular demand! Edinburgh Medical School will be opening up the historic Anatomy Lecture Theatre for an immersive, captivating re-enactment of brain surgery, featuring state-of-the-art surgical technology, alongside a diverse cast of neurosurgeons, A&E doctors, paramedics and medical students!

---
'Neurotheatre – Simulated Brain Surgery!'
Neurotheatre will offer audiences a glimpse at the neurosurgical treatment of a simulated patient following a road traffic accident. In an experience that promises to be as exciting as it is educational, members of the public will witness the work of emergency services before hearing a first-hand account of the effects of traumatic brain injury by a patient ambassador from Edinburgh Headway Group.
---
Interactive pop-up stalls
Prior to the performance, audience members will be given the opportunity to try their hand at suturing and emergency first-aid, while also learning about the cutting-edge technology and meticulous planning involved in rehabilitating patients following traumatic brain injury. There will also be an opportunity to meet the medical and surgical staff directly involved over light refreshments after the performance.
---
Programme for the evening:
1730: Doors to pop-up stalls open.
1815: Doors to Anatomy Lecture Theatre open.
1830-1930: 'Neurotheatre – Simulated Brain Surgery!'
1930: Refreshments.
---
This is a free event but audience members are reminded to register using the link provided.
Neurotheatre is a joint collaboration between Edinburgh Neuroscience, The University of Edinburgh Neurological Society and medical students at Edinburgh Medical School. Medical students will be on-hand and are more than happy to take questions relating to studying in Edinburgh.
We would recognise the generous support of our sponsors listed below.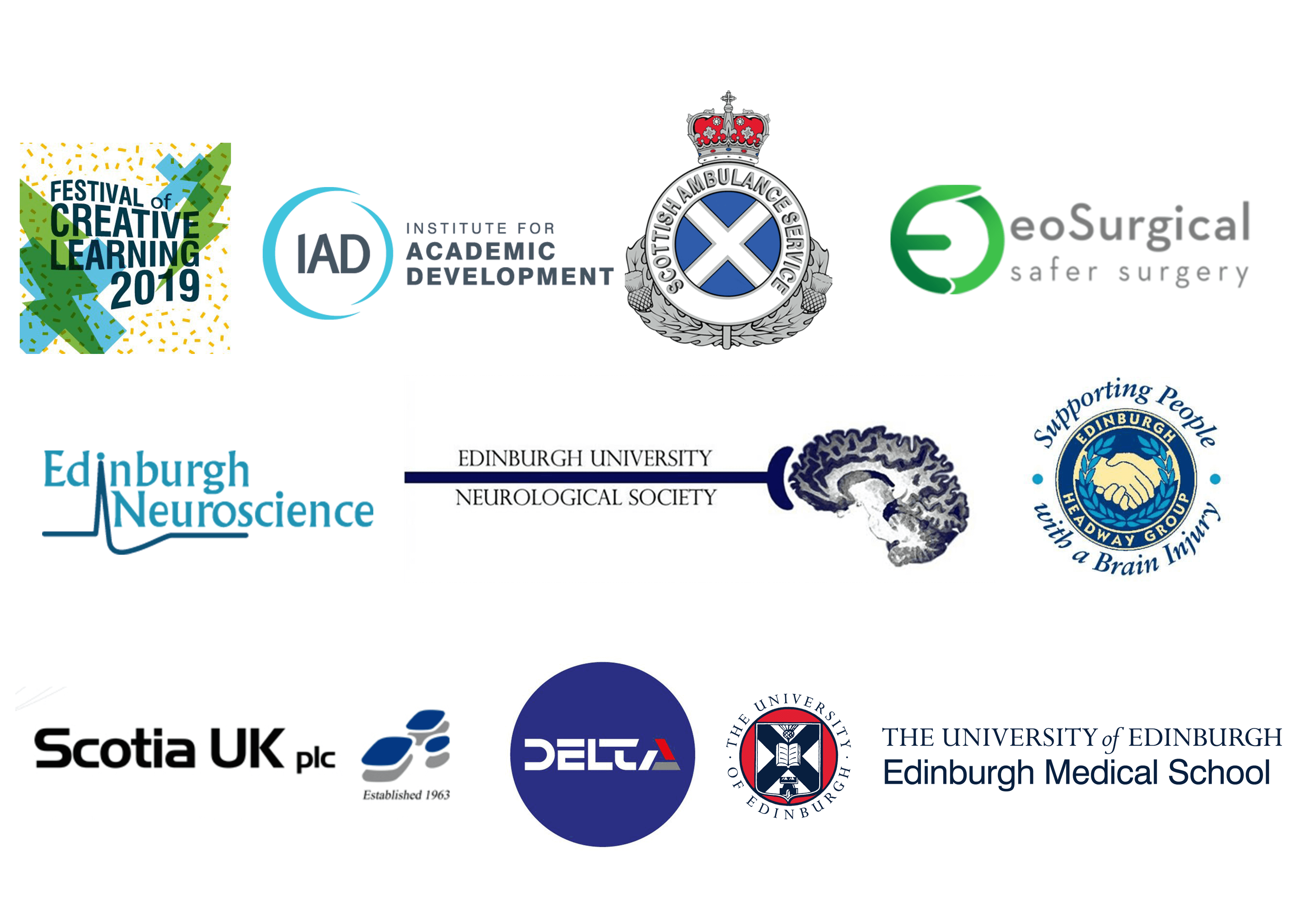 FAQs
How can I contact the organiser with any questions?
Any queries should be directed to Anushka at s1604928@sms.ed.ac.uk
You can also tweet us @BAWbrainEd
Is there disabled access to the event?
Yes, the venue has a lift but please get in touch with us prior to the event so we can help make arrangements. Please note that this is an old and historic venue with a steep staircase - however, there is seating at the bottom of the lecture theatre that is suitable for guests with disabilities.
What age is this event suitable for?
Anyone above the age of 14 would be suitable for the event. No prior knowledge is required
A note about your ticket
Please note: due to the large number of people who book for events but do not turn up, your ticket does not guarantee you a place. People holding tickets will be admitted on a first come-first served basis.
Please note this is a simulated performance and does not involve any human tissue or remains