About this Event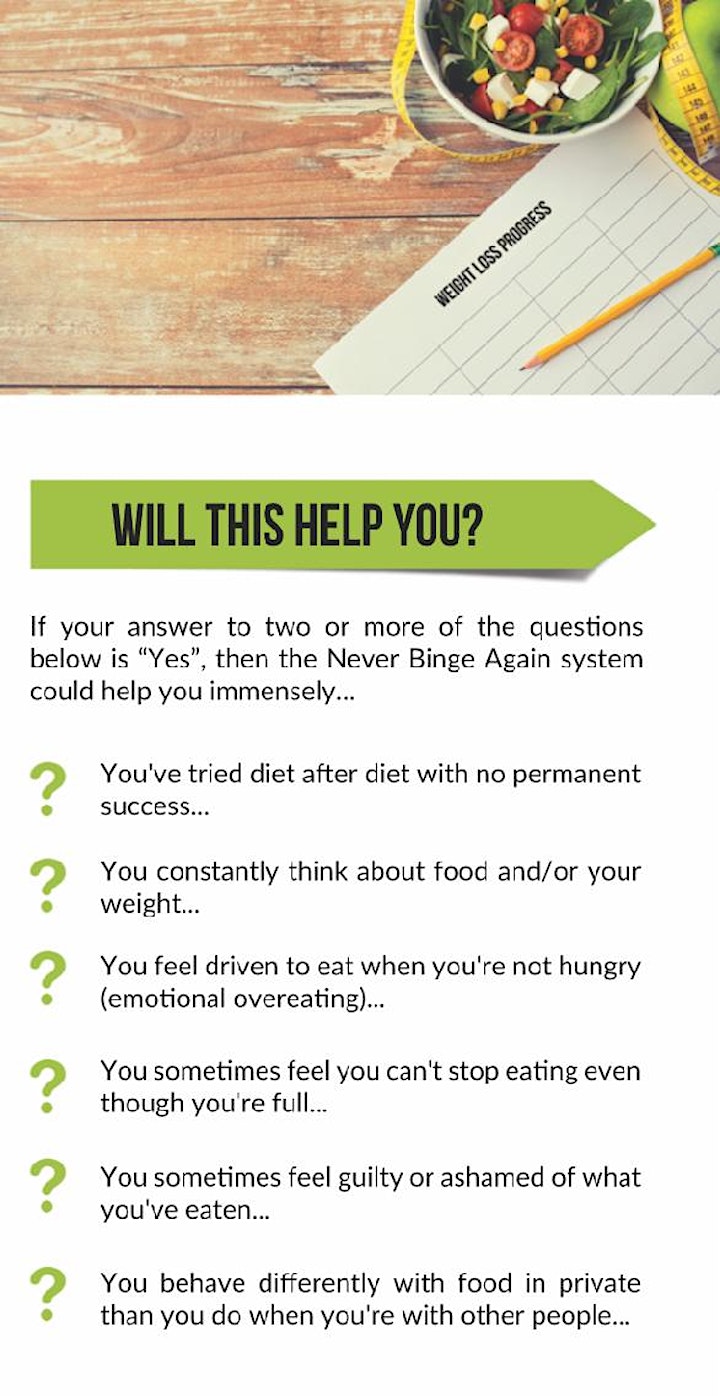 Have you ever had that sinking feeling when you've just embarked on yet another diet or weight loss program? 🙃
Your thoughts 💭 might be ....
"I'll be deprived
I'll need to give up every single food that I love 💔
I'll be starving
I won't be able to socialise 🍸
It's too hard
I'll have to cook different food
I'll need to eat salad 🥗
I've failed so many times before'
PLEASE DO NOT START ANOTHER DIET!!!!!
There IS another way 😊
It's a VERY simple concept, which was devised by an overeating American psychologist, it has helped thousands of people who had previously tried "everything" to control their eating habits and to lose weight.
The negative thoughts above come from the lower brain and the good news is that you can change your thoughts 💭
WHAT HAVE YOU GOT TO LOSE?
Come and spend a full day in beautiful surroundings with a small group of like-minded people, being coached on how to "Never Binge Again™️"
You will literally be reprogramming your brain!
It's an inclusive day with lunch, teas and coffees☕️ and some fruit
You also get to use the SPA!
FREE STUFF! ❤️
Also included in this package will be a free copy of the book "Never Binge Again ™️"
Who am I and how can I help you?....
I'm a former self confessed binge-eater who hid her problem for most of her life. https://www.dailyrecord.co.uk/lifestyle/health-fitness/binge-eater-scoffing-15-chocolate-12961894.amp
I worked for Weight Watchers for 7 years, and not long after I left the company to study NLP, I googled "binge-eating"
Why? Because I knew that there had to be a solution to my secret problem out there.
I found that solution in "Never Binge Again™️"
I've now been teaching the system as a Master Coach for nearly 3 years and have had amazing success with people who had previously tried "everything" to change their habits.
Check out some of my client reviews below.
It works and it's not difficult!
Spend a full day at the New Lanark Mill Hotel in the beautiful New Lanark Heritage Village
http://www.newlanarkmillhotel.co.uk/
Itinerary
9.45am Coffee/tea
10am First workshop
12.30pm Lunch
1.15pm Second workshop
3pm Coffee/tea
Spa time!
6pm Time to go home
Places are limited as I prefer to work in small groups
About the Hotel
New Lanark Mill Hotel is a 4 star hotel located in the heart of New Lanark World Heritage Site, a beautifully restored 18th-century cotton mill village.
Nestled in the spectacular Clyde Valley in southern Scotland, a stone's throw from the Falls of Clyde and less than an hour from Edinburgh and Glasgow,
Relax at our Leisure & Beauty  Spa
Anyone wishing to book a spa treatment should contact the hotel directly.
A Couple of Coaching Reviews....
"Fiona is an expert and gifted coach, who really cares. Whenever I spoke to her, I always felt heard and like she understood me and my concerns very well. Our time with her as my coach was absolutely invaluable, as she shared such great insights. I felt empowered and in control of my habits long after working with her. If you get the chance to work with her, I highly, highly recommend doing it. Fiona is a gift!"
- Lisa
------------
Thanks, Fiona! : )
"I am a 66 year old  highly accomplished female in my line of work, a mother, a grandmother and a secret binger all my life.  I first remember starting to binge in college on Captain Crunch cereal, and ate the whole box until I bent over in such stomach pains and had horrible diarrhea.  I guess I welcomed the diarrhea at times because I was always constipated.  My college roommate would get so disgusted with me because I would come back after a weekend of going home, eat everything I could find in my house, and return to my dorm room sick as a dog.  She couldn't understand  why anyone would do that.  45 years later, I ran into her, and the first thing she asked me was if I still binged and ate like that.  I was mortified.  Throughout those 45 years, I would binge, starve, purge, and have umpteen different sizes of clothes, keep the smaller ones, "just in case I would ever lose enough weight to fit into them.".  I seldom did. 
And if I did, it was for a hot minute.   I always binged on sugar, and would buy a whole "Costco cake", eat much of it in my car, and throw it away before I ever got home. Tried every diet, went to doctors, took shots, pills, and knew I had an addiction.  I found " Never Binge Again" on Facebook , bought Glenn's book, and all of sudden, it spoke to me and my condition.    
I tried following the "rules", I set up for myself from the book, but I made either too many,  or too restrictive. I asked questions of the group and received excellent support,  but never felt it was just enough.
I figured I would go one step further and sign up for Glenn's intensive workshop.  I attended his groups faithfully and committed to 100% compliance until I didn't.  I spoke to Glenn privately , but something always got in the way of my commitment.  I paid for months of individual coaching and let it ALMOST lapse, until I was put in contact with Fiona Pediani.  We immediately clicked.  She was concerned, knowledgeable and helped me significantly with my rules. With my "always" and my "nevers". She understood "me",  my concerns, my history, and followed up.  We worked through a plan together and I am happy to say I have complied 100% since our discussions.  I have followed my rules. The rules that we set up together.  We have corresponded and she has shown encouragement and inspiration.  I am still a binger. I will always be a binger.  But I don't binge. As long as I follow my rules.  I couldn't say this before Glenn's plan and  Fiona's incredible guidance and support.  I will forever be grateful"
April C