Join us to explore the architectural visions for healthier future through adoption of bathing cultures like sauna and cold water immersion.
About this event
This event is part of the 2021 London Festival of Architecture under the theme of "Care".
Introduction
During the pandemic, public interest in various health and physical resilience improving activities exploded. Sauna bathing, outdoor swimming, cold water immersion and breathwork, among others, gained countless new followers. How should our built environment support these well-being rituals? What could be the architectural response to these new epiphanies? In these invited talks, renowned architects, designers and experts draw on their research, imagination and practice – to lay out their visions for the personal and communal care regimes of heat, steam and ice.
Speakers (in alphabetical order)
Hosted and moderated by
Wendy Liu – Architect RIBA, Arts & Culture Officer, British Sauna Society
Mika Meskanen – Co-founder and Chair, British Sauna Society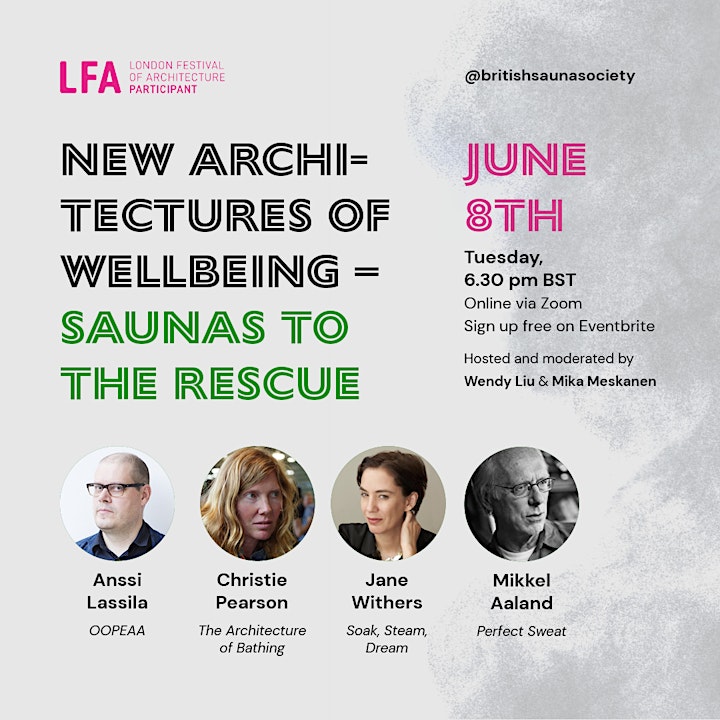 Organised by
The British Sauna Society is an emerging, charitable organisation that promotes sauna culture and leads the conversation on health and wellbeing through bathing practices in the United Kingdom and internationally as the UK national member of the International Sauna Association (ISA) | www.britishsaunasociety.org.uk
Organiser of New Architectures of Wellbeing – Saunas to the Rescue?