Description
Meet the latest and greatest start-ups from Leeds region

Network with others from the Leeds business community

An opportunity for up-and-coming businesses to showcase their products or services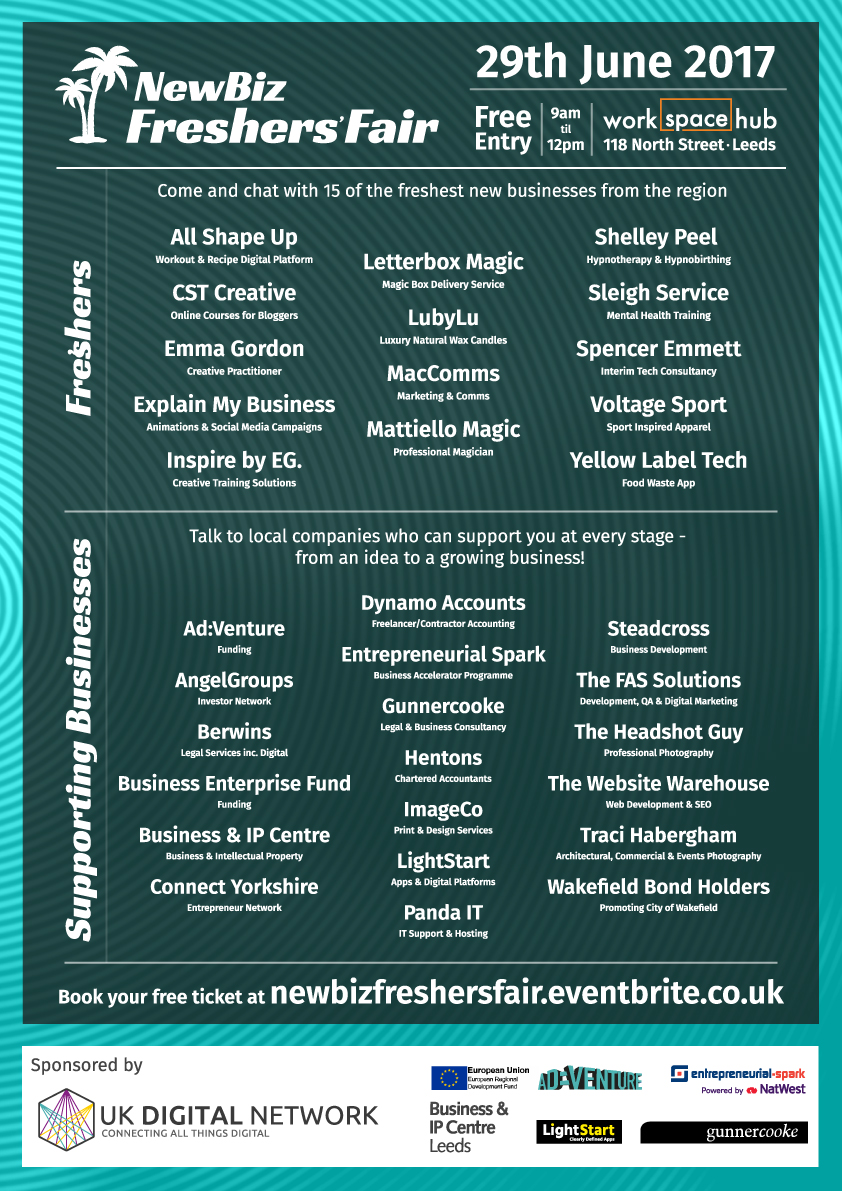 ---
What is the New Biz Freshers' Fair?
For young and growing businesses, one of the hardest challenges is getting your name, brand and products out to the wider world whilst simultaneously making those crucial business connections that, you never know, may well provide a stepping stone to exactly where you want to be. We're throwing an event for new businesses who are just embarking on what we've been through...and maybe, just maybe, our network will connect you to the right people.
Many of us have been to a Freshers' Fair at some point (whether or not we remember them!), so the format should be familiar. For those that haven't, there will be a series of 'stands' in the room, manned by businesses who will happily chat with you and show or tell you about their product or service.
Where is the event?
The event will be based at Quattro, the spacious top floor event space at WorkspaceHub on North Street, and it will run from 9am 'til 12pm. Food will be available between 9-11am! There is plenty of breakout space for those who want to network further or need somewhere more private to chat. Come along to meet new people, engage with new businesses and see what's happening in the start-up world around you. Please note that there is some parking avaialble on nearby streets, in the Christopher Pratts Furniture car park, or at the Trafalger Street car park.
I'm a 'fresher' business! How do I apply for a stand?
This is an OPEN CALL for all new businesses (*founded within the last 12 months*) to register for FREE to take one of the stands. On the day you just need to rock up to the venue, bringing a pop-up banner if you have one, and be ready to chat about yourself and your business to a bunch of engaged, interesting people from across the Leeds City region. We have a limited number of spaces for new business stands, so if you are interested in being one of them, please click here to apply.
I'm a business that supports young businesses, how can I get involved?
If you're not a Fresher but you still think you have services to offer startups and young businesses and you'd like to be involved, we also have an area at the event for Supporting Business. This includes (but isn't limited to) services such as accountants, solicitors, marketing/PR, social media services, IT support, content services (video, photography, design), IP/Patent, business coaches/mentors, printers, exporting support. If you fall into one of these categories, you can apply for one of these stands by clicking here. Please note that we have a limited number of spaces and want to make sure we have a broad range of services represented on the day. We will do this on a first-come, first-served basis and so we apologise if we cannot accommodate you. Please book early to avoid disappointment.
I don't want to exhibit, I just want to come to the event, is that OK?
OF COURSE! Please register for the event below, as usual, and we look forward to seeing you on the day! Please come straight to the fourth floor and we'll check you in, introduce you to our Freshers, get you sorted with some refreshments and then let you enjoy your morning across our two floors.
See you there!
---
Work Perks
If you are travelling or need somewhere to work from for the afternoon then there's no need to rush off after the event! There are some "Plug'n'Play" hotdesks available on Floor 2 at the WorkspaceHub where you can work for free for the rest of the day - we just ask that you please let us know in advance so we can book you in.
---



Organiser of New Biz Freshers' Fair - Thursday 29th June
LightStart is an analysis-led digital design house. Our expert team includes analysts, developers, designers and marketers and we offer a full suite of services to help you take your digital ideas from inception through to successfully launched products and businesses.
 If you have an idea for a digital product, we want to hear from you!