Location
Royal Botanic Garden Edinburgh
20A Inverleith Row
Edinburgh
EH3 5LR
United Kingdom
Description
New for Old is an interactive exhibition and associated programme of events at the Royal Botanical Garden Edinburgh, 9th to 22nd May 2016, presenting a collaborative exchange between Scottish and Thai craftspeople, designer makers and social entrepreneurs as part of a longer term programme to build cultural links between the two countries.
New for Old - Creative Social Entrepreneurs in Thailand is talk by Kaewwanna Indigo Studios and Varni Southern Wickery about their social enterprises and the work they do with communities of makers and craftspeople, with the aim of preserving craft skills and cultural and environmental heritage as well generating sustainable, environmentally conscious livelihoods for those communities. In this talk they will share their stories and inspirational journeys.
The New for Old Programme, created and supported by The British Council and SACICT (Support Arts and Crafts International Centre of Thailand) has been running in Thailand since 2014 and you will also hear from Andrew Glass, Director of British Council Thailand, Saengrawee Singhawiboon, Manager, Product Development and Innovative Crafts, SACICT, Patcharawee Tunprawat, Head of Arts, British Council Thailand, and Carol Sinclair, Project Curator, who will share the background to and practical details about this exciting project.
The talk will take place from 11am - 12.30 pm on Saturday 21st May 2016 in the Lecture Theatre, Royal Botanic Garden Edinburgh, 20a Inverleith Row, EH3 5LR. Tickets are free but places must be booked.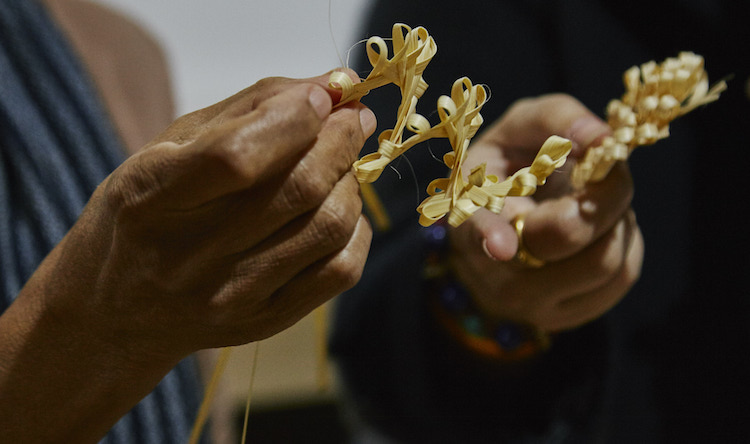 The New for Old Exhibition
John Hope Gateway, Arboretum Place, Edinburgh EH3 5NZ
9th -22nd May 2016
The exhibition highlights the process of sharing of ideas and making techniques, culminating in the creation of new products which will be shown here for the first time in the UK. This exhibition is accompanied by a series of interactive workshops on the weekends of 14th/15th and 221st/22nd May. These workshops are free and open to the public, so come along and make jewellery, try your hand at printing, or experiment with paper, weaving bamboo or dyeing with indigo. For further information on the exhibition please click here.