Description
#FSBConnect Lincoln - Evening Launch Event
FSB Lincolnshire would like to invite you to our launch networking evening event at our new venue - Mamma's Bistro.
Want to know more about how to get the most out of LinkedIn?
We are delighted to welcome our Guest Speaker, Richard Mawer, CEO of Digital Media Edge Ltd - Lincolnshire's Business Growth Agency. Richard will do a presentation on 'The Secret To LinkedIn Lead Generation For Your Business' Workshop and will share his hints and tips with us:
Richard has a passion for enabling predictable business growth through digital marketing and sales including driving targeted website traffic, effective lead generation and customer acquisition. He has an expertise in working with clients to develop effective digital strategy to help them achieve their business goals for growth. Richard's "why" is simple - to help 50 businesses double their revenue over the next 5 years through planning, executing and optimising a measurable digital strategy.As the CEO of Digital Media Edge, he has worked with large national corporate businesses and smaller SME's in a number of sectors, to realise their growth goals in a connected world. He shares his passion for all things digital in powerful live workshops on Digital Transformation, Inbound Marketing and Social Selling, identifying best practice and helping business make a successful transition from analogue marketing, sales and service to a robust digital strategy that will drive results in a fast-changing world. "
In the 45 Minute presentation, he will share:
The 6 Cornerstones to using LinkedIn for effective lead generation:
• Brand - How to create a buyer centric profile and personal brand which resonates with your buyers.
• Identify - How to find your prospects, buyers, and decision makers through social media research.
• Educate - Answering the questions your buyer is asking at each stage of their journey by sharing valuable insights and content.
• Engage - How to engage with your connections and contacts across LinkedIn daily.
• Develop - How to actively develop relationships, build rapport, trust and authority.
• Measure - Systems, analytics and metrics to leverage and measure your success.
There will also be plenty of opportunity to network with fellow FSB members and visitors from the wider business community in the local area.
A light sandwich buffet with tea and coffee will be provided . There will also be a bar available at the venue, to purchase drinks.
Don't forget your business cards and marketing leaflets and don't miss out, make sure you book today!
Please note that car parking directly outside Mamma's is free but is limited to a maximum of 3 hours. Please see the signs in the car park for further details.
For general enquiries regarding the event please contact Jackie Richardson: jacqueline.richardson@fsb.org.uk
We look forward to welcoming you at our event.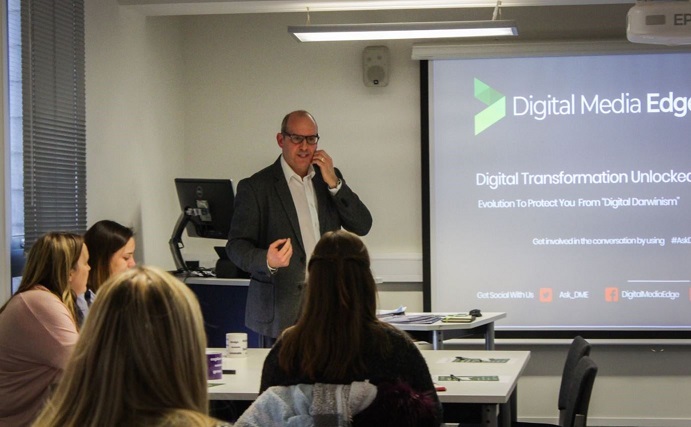 Be sure to follow us on Twitter @FSBEastMids @FSBLincolnshire #FSBConnect for regular information to support your business. Also, why not take a look at the Digital Media Edge Twitter page: @Ask_DME and Richard's LinkedIn profile - https://www.linkedin.com/in/richardmawer/
We're changing the way you book to attend FSB events and very shortly you will be able to book and view events directly through the FSB website without the use of third party booking platforms. This change is all about making the process simpler for you and help us understand which events are helpful to you and your business.

Starting in the next few months our events will no longer be listed on Eventbrite and therefore it's important that you register to receive information about FSB events to ensure you don't miss out. FSB members don't need to do anything, you will automatically receive information as part of your membership.

If you are not currently an FSB member and want to continue to be notified about events please add your name and email address here and we'll notify you when the new site is live.
10-23930 P9925
The FSB Events Privacy Policy can be found online here.