| | |
| --- | --- |
| New Horizon 2019 - Radical Hospitality | |
Event Details
A 7 day Christian non-residential conference where thousands of people of all ages can be taught from the bible and be inspired through worship and story.


Why 'radical hospitality'?
Radical hospitality begins with the gospel: the truth and grace of God to us in Christ Jesus.  A baby born to a mother who found no space in the guest room.  A wandering teacher who had nowhere to lay his head.  A preacher of a kingdom of welcome that must be entered through childlike faith.  A king whose only time in palaces was before kangaroo courts and whose only throne was a cross.  Jesus came to His own, but his own did not receive him, yet to those who received Him, who believed in His name, He gave a rich welcome into the family of God and an eternal home with Him.  Those who follow Jesus as Lord can learn from Him to honour others in their otherness, to dine with sinners without sinning with diners, and to be at home as strangers in the world.  We can learn, like Jesus, to testify to truth while God's grace overflows from our lives to others.
Evening Celebrations and Bible Teaching
Throughout this week, our speakers will lead us through the implications of the gospel for our lives as individuals and churches as we seek to be radically hospitable:
On Saturday, Monday and Tuesday evenings, Rosaria Butterfield will share from her experiences and biblical wisdom about the potential of the home as an embassy for Christ and how welcoming neighbours, adopting children and visiting prisoners can be part of their journeys to faith.
Gilbert Lennox will take us to first century Philippi to see how the gospel transformed lives and households there, beginning with the birth of the Philippian church in Acts 16 on Sunday evening, then delving into Paul's letter to them in the morning Bible Teaching.
From Wednesday to Friday in the evenings, Tim Chester will lead us into Luke's Gospel to see how Jesus, at meals He attended, modelled perfect hosting, foretold a great feast at the end of the ages, and called us to eat with others in celebration and extension of God's grace.
So what?
As we journey together through the week of New Horizon, let's be prayerfully considering what difference it will make when we return to where we live.  We will celebrate God's rich welcome to us in Christ and we can work together to transform an airy tent in a field into a place of homely welcome for all, but the real test will come after we leave.  Will we take away a vision of how, in God's power, our homes and churches can be places of radical hospitality where authentic Christian faith is shown to a sceptical world?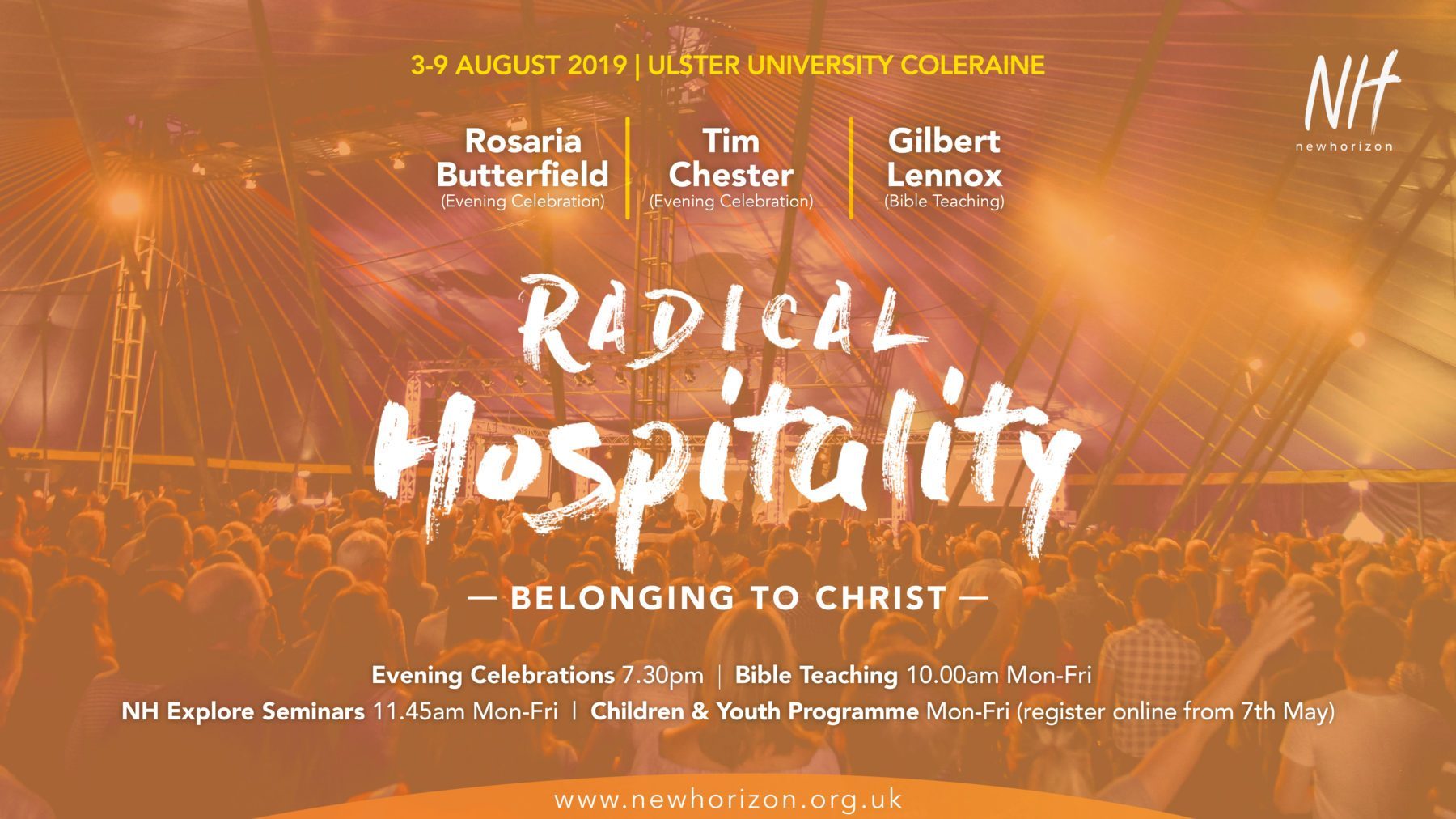 FAQs
Do I have to bring my printed ticket to the event?
No ticket or registration required, but it is helpful for us to know who's coming & encourage others to attend.

Having a ticket doesn't guarantee a seat.
Are children allowed to attend?
Children are allowed to attend Main Tent & Seminars with an adult.
There is a Childrens & Youth Programme on Monday to Friday.  To register see  https://newhorizon.org.uk/the-event/children-youth-programme/youth-children-registration
Where do I park?
Parking is available on campus and charges apply between the following timeframes:

Monday to Thursday 7.00 -19.00
Friday 7.00 – 17.00

All other periods will be free of charge.

Parking Charges:
Payment can be made by presenting a credit card at the barrier on entry and again on exit and the system will calculate the tariff due and deduct it from the credit card account.  Alternatively payment can be made at pay stations on campus before exiting, see map on page ?? for location of pay stations.

A free shuttle bus service will operate between the New Horizon designated car parks and the Tented Village both morning and evening.

Evening
All campus car parks are available for our use in the evenings. Stewards will direct traffic to car parks where space is available. Parking is free of charge on Saturday and Sunday, after 19.00 from Monday to Thursday and after 17.00 on Friday. Please note that if you arrive before 19.00 or leave the campus after midnight (Mon - Thurs), you will be charged for the whole time your car is parked.

Morning
Stewards will direct you to the car parks designated for New Horizon and these will be clearly signed. Please do not park in car parks not designated for New Horizon use. We are not the only users of campus car parks during the week, so please help us to maintain the goodwill we have with the University.

Disabled
There are disabled parking bays in each of the University car parks for cars displaying the official Blue Badge. The car park next to the Main Tent is available for Blue Badge Holders at £2 per car per morning. There is no evening charge. Please note that to gain access to the Disabled Car Park, you must register with New Horizon and display both the New Horizon Pass and your Blue Badge. If you haven't registered in advance, you can still do this at the Control Room, which is located in the Disabled Car Park beside the Main Tent.

Our car park stewards carry out a very difficult task and work in all weather conditions. They are usually young, enthusiastic and delighted to be doing something positive for God and the New Horizon event. Please give them every encouragement.

Please do not park on roadways, on yellow lines or on grass banks/edges. You should not park anywhere other than official car park spaces. If you do, you risk having your car clamped!

Where

Ulster University - Coleraine campus

BT52 1SA Coleraine
United Kingdom


Organizer
New Horizon exists to be used by God, through the power of His Spirit to inspire a selfless surrender to His Son, a radical obedience to His Word, an enduring passion for His Kingdom and an unconditional love for His World.