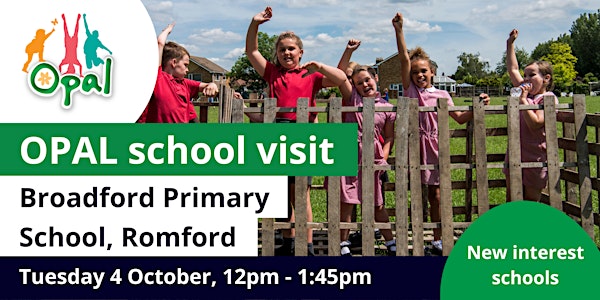 New interest schools: OPAL school visit - Broadford Primary, Romford
Location
Broadford Primary School
Faringdon Avenue
Romford
RM3 8JS
United Kingdom
Play makes up 20% of children's primary school life. See how a suburban school makes playtime a key part of their day.
About this event
See for yourself what an amazing playtime looks like at Broadford Primary School.
Agenda
12pm - 1pm: Observation of playtime
Around 12pm, we are joined by schools thinking about joining the OPAL Primary Programme and we will all observe how the school's play team ensures all the children have access to all play types.
1pm - 1:45pm: Meeting for schools thinking about OPAL
An introduction to the programme with time for questions, open to anyone considering how to make their playtimes amazing. It can also apply to wrap-around provision and holiday activities too.
Times are subject to alterations of up to 30 mins. Attendees will receive an email confirming times in the week preceding the event.
Additional information
Free parking on roads nearby. Bring your own lunch, or there are cafes nearby.
We keep numbers small so sign up soon. Please let us know if you can no longer come so we can release your place to another school.
We will be outdoors the whole time - please come dressed whatever the weather. OPAL schools play outdoors in all weathers.
About Broadford Primary School
Broadford Primary is a three form entry large (c. 600) pupil school. Broadford started their OPAL journey in autumn 2021 and are about halfway through setting up their OPAL playgrounds. They are excited to show nearby and other large schools their work in progress - and what great progress it is.
Football dominated and large parts of the boggy grass was unused, so the children had little to do outside of the early years playgrounds. They have free-flow up to the end of Y2 and wanted to extend that. Now you will see amazing den making, two canoes and a boat, a sandpit, two or more mud kitchens, scooters and prams and much much more. The hugely enthusiastic staff make this school a delight.