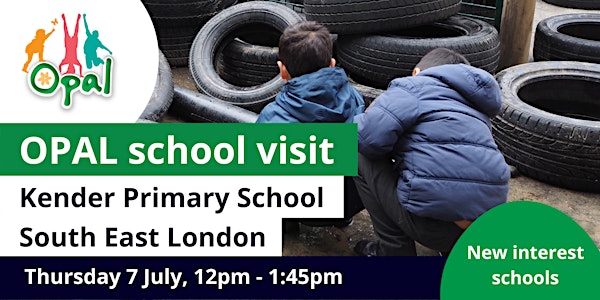 New interest schools: OPAL school visit - Kender Primary, SE London
Location
Kender Primary School
Kender Street
London
SE14 5JA
United Kingdom
Play makes up 20% of children's primary school life. See how an inner city school makes playtime a key part of their day.
About this event
See for yourself what an amazing playtime looks like at Broadford Primary School.
Join Kurti Birkenbeil and Cath Prisk, OPAL Mentors and experts in improving children's playtimes, and hear from Anna Jeffrey, assistant headteacher and curricula lead for play at Kender. They will be sharing their experiences of how the OPAL Primary Programme has transformed playtimes and the impact on the school and the children that this has had.
Agenda
12pm - 1pm: Observation of playtime
Around 12pm, we are joined by schools thinking about joining the OPAL Primary Programme and we will all observe how the school's play team ensures all the children have access to all play types.
1pm - 1:45pm: Meeting for schools thinking about OPAL
An introduction to the programme with time for questions, open to anyone considering how to make their playtimes amazing. It can also apply to wrap-around provision and holiday activities too.
Times are subject to alterations of up to 30 mins. Attendees will receive an email confirming times in the week preceding the event.
Additional information
Please bring your own refreshments/lunch due to Covid. There are plenty of local options nearby for food after the visit. Local parking is available on streets, mostly free. Public transport is good nearby.
We keep numbers small so sign up soon. Please let us know if you can no longer come so we can release your place to another school.
We will be outdoors the whole time - please come dressed whatever the weather. OPAL schools play outdoors in all weathers.
Photo credit: Cath Prisk