Description
Saturday 27 February
Aimed at children aged 7 - 11
Please note that due to space limitations, a ticket purchase entitles one accompanying adult to attend for free.
Do your children fancy trying their hand at electronics or learning what it takes to build their own designs from scratch?
In this fun hour long workshop, participants learn how to create sculptures using conductive dough which will be brought to life with light and sound electronics.
By the end of the workshop, participants will have developed an understanding of how low-current electronic products work, through playing and experimenting to create products of their own.
All participants will be able to take the kits* home at the end of the session to continue creating new inventions.
Throughout the day we'll also have an all ages drop-in art ideas space, where children can explore, brainstorm and craft ideas for the inventions of the future.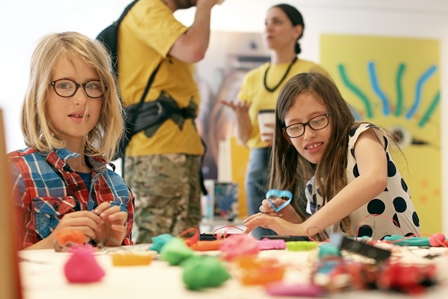 This workshop will be facilitated by Technology Will Save Us
Technology Will Save Us are based in Hackney, East London and are experts in hands on learning with technology that includes DIY Gadget kits, activities and online resources.
All of the products are vehicles for education that encourage everyone to make, play, code and invent with technology. Using everyday life as inspiration, the kits tap into the hobbies and passions that Technology Will Save Us love – music, cycling, gardening and gaming.
For more information, please visit www.techwillsaveus.com
Please note, this event is part of New Inventors, a day of workshops to introduce new skills in problem solving and creative making. In the afternoon, we will be hosting New Inventors: Build Your Own Synth, aimed at children aged 10+.
*Electro Dough kits normally retail at £15.
New Inventors: Electro Dough is a part of Future Makers, an exciting new programme of creative technology workshops for children and adults, at museums and galleries across Tyneside.
The Future Makers programme is delivered by Tyne & Wear Archives & Museums and Manchester-based digital art organisation FutureEverything. For more information, please visit https://twmuseums.org.uk/future-makers