Description
This is a fantastic opportunity to find out what JCI is all about.
Come and meet this year's president Charlie Pearson and her team.
All non members that attend can learn about the five areas of opportunity that JCI offers:
Business,
Community,
Personal Development,
International
Social
Format of event:
6.00pm- Welcome from Charlie Pearson
Please come and go as you please.
Drinks and snacks are available from the cafe.
For more information please contact Tracy or Oli at jcibarnsley@hotmail.co.uk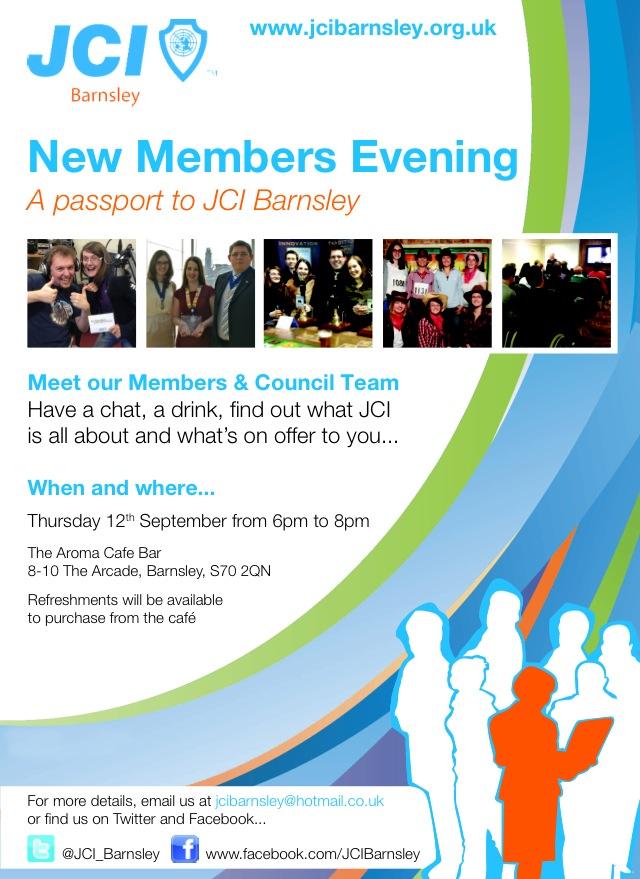 Organiser of New members evening- a passport to JCI Barnsley
JCI Barnsley is the local chamber of JCI
JCI is the leading network of young leaders (people aged 18-40) to belong to if you want to develop your skills, expand your experiences and have fun at the same time. We unlock the potential in our members to positively impact the world around them. JCI is an opportunity to further your personal development while making a real difference in your community.
Each event, business visit and training session are networking opportunities for you. JCI is perfect for you if you are new to your town/city and need to widen your social circles and meet new friends. JCI always welcome new young professionals to join the organisation. So if you are looking for an educational and social network JCI is the place for you!
JCI offers you the opportunity to:
- network with other young professionals
- increase your confidence
- support your local community and charitable projects
- take on a local, national or international role on a council team
- attend events locally, nationally and internationally
- make new friends and have fun!
Our membership is very diverse – from start-up entrepreneurs to people working in blue chip companies, non-profit organisations and charities. JCI members come from all walks of life, and from all around the world. But they are united in one common aim: to challenge and develop themselves.