New Ways to Promote Reading for Pleasure with Michael Rosen
Description
Ways to Promote Reading for Pleasure
with Michael Rosen and Special Guests

With discounts for Goldsmiths Alumni and Students
Are you a teacher struggling to inspire your pupils to enjoy reading? Or are you interested in education generally and fascinated by the ways in which we learn to read? In an action-packed day, hosted and led by the celebrated author Michael Rosen, you'll learn about what exciting new research has to say about the best ways to promote reading for pleasure, taking away invaluable tips and strategies to encourage children of all ages to enjoy turning the pages. There are keynote speeches by the award-winning children's author, Sita Brahmachari, on how reading can help young people find a voice, and by leading academic Kate Pahl on how using objects can stir children to think differently, to be 'slant', and thus become more motivated to read.
You'll be given the chance to attend a series of workshops run by top practitioners, teachers and academics, which include: how mindfulness can help everyone improve their reading; how video and pictures can bring texts alive; how drama can make reading enjoyable, and top tips to foster reading for pleasure. Throughout, the day will be punctuated by lively interventions by Michael Rosen who will read from his work, and highlight the innovative research into children's reading his post-graduate students on the MA in Children's Literature have produced over the years. If you want to be inspired to discover the pleasures of teaching reading and making reading enjoyable generally, then this conference is not to be missed.

Welcome and Introductions
Maggie Pitfield, Head of Educational Studies
Julia Hope, Head of the MA for Children's Literature
Michael Rosen, Professor of Children's Literature
Michael Rosen and MA Children's Literature students will discuss their Action Research in schools

Workshop 1
Mindful Reading in Education
Francis Gilbert, Head of MA in Creative Writing and Education

In this workshop, Francis Gilbert will outline what mindfulness is and show how mindful practices can be used by teachers to develop their own reading practices, and then apply these lessons in their own teaching. The workshop will include some short meditations and will give delegates a chance to consider how mindful reading practices might be used in the classroom.
Workshop 2
Creating multi-modal texts to bring reading alive
Vicky Macleroy, Head of the Centre for Language, Culture and Learning
Mirela Dumić, International School of London

In this workshop, participants will have the opportunity to work with a children's story Hedgehog's Home by Branko Ćopić. It is a story that crosses political divisions and is about caring for your natural habitat and the meaning of home. In migrating a text, delegates will experiment with adapting and translating the children's story across modes and languages/dialects; learn how to use a digital tool to tell a story; and reflect upon the process and how it can be used in the classroom.
Workshop 3
Old stories, new readings: using drama
to bring new life to an ancient story
Maggie Pitfield, Head of Educational Studies
Theo Bryer, Lecturer in English and Drama in Education, UCL Institute of Education.
Many teachers like to bring myths into the classroom as part of story-reading and story-telling activities. In this practical workshop Theo Bryer (IoE/UCL) and Maggie Pitfield will demonstrate how teachers can approach a familiar and much-read myth through drama, enabling children to encounter and tussle with some modern and not-so-modern dilemmas.
Workshop 4
Reading for pleasure and poetry
Michael Rosen, Professor of Children's Literature

Michael Rosen will show you how you can teach reading for pleasure effectively at both primary and secondary level in his own inimitable way, mixing serious academic research with jokes, anecdotes and some enchanting activities.

Keynote 1
Reading as a materially situated practice:
some 'slant' stories from the field'
Kate Pahl, Professor of Arts and Literacy,
Manchester Metropolitan University

This talk will explore the idea of reading as a material activity, both in terms of reading matter being material, but also will explore how objects can become part of the experience of reading. This can produce a very different 'feel' to reading, that might feel odd, different, slant or rebellious. Dr Pahl will tell some stories from research which looked at objects, stories and apply this to how reading materially can be a different experience. How can reading matter in a different way?

Keynote 2
Finding a voice to belong in stories
Sita Brahmachari, award-winning children's author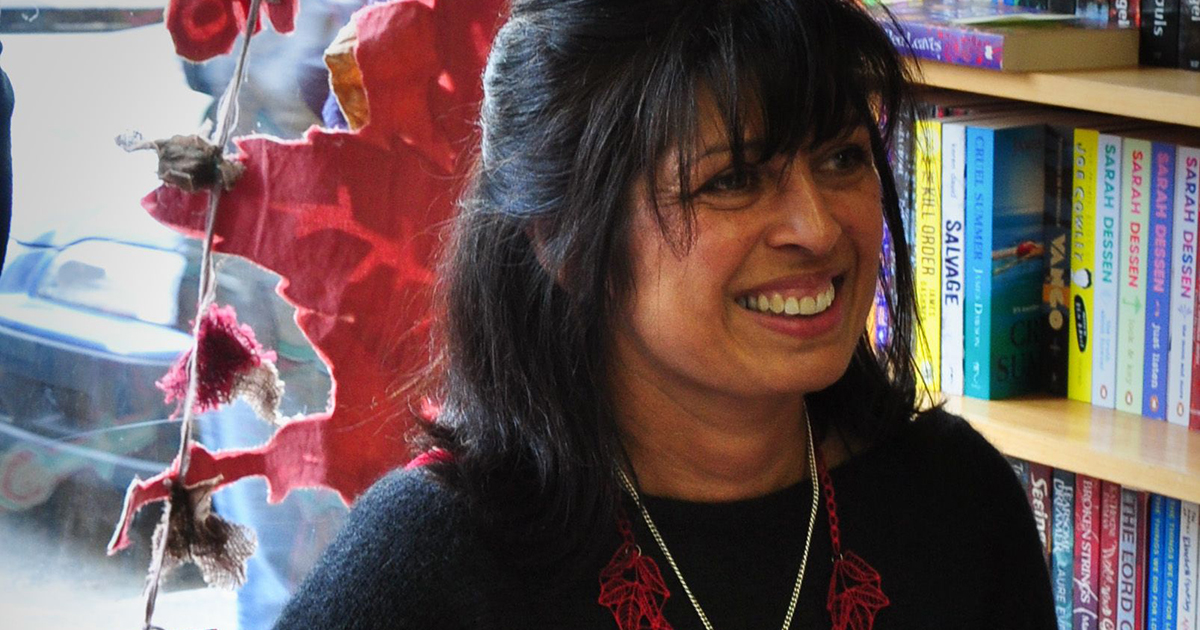 All the young characters in the stories I've written for children and young people have needed to rebel in small and momentous ways in order to be heard. In a broad brush stroke what I understand the term to mean is finding a way to express yourself, having a sense of agency and power that who you are, your culture, your history, your landscapes, the way you speak and express yourself have value. I'll argue that the powerful feeling of 'belonging' this produces can have major positive impacts on the ability for all students to reach their full potential. In this speech I will explore the way in which my young rebel characters have navigated the journey to finding a voice at critical rites of passage moments in their lives. I'll talk about why I've made it my mission as a writer for children and young people to step into the stories and characters of so many diverse communities and why that's so critically important today more than ever.
Final Words
Michael Rosen and Francis Gilbert


Practical Information
---
A limited number of discounted tickets are available for Goldsmiths alumni (10%) and students (50%). Please enter your discount code when booking your ticket: EDU10 (alumni) EDU50 (students). This event may be filmed and photographed for educational and marketing purposes. Food and drinks will be provided at registration, morning, lunch and afternoon breaks. Participants will need to choose one of the four workshops detailed in the programme. Certificates of attendance can be issued on request on reception of your feedback form.
Feedback from previous reading conferences
---
"Interesting, useful and engaging; So much to go away with" - "Has given me lots of resources to go and look at for myself" - "Insightful and funny sharing of research surrounding the pedagogy of children's reading" - "I will now reflect upon my own practice" - "I will now hopefully deliver a more inclusive and exiting environment for reading" - "Interesting hearing an author's perspective" - "Very well thought out content; This was great" - "Will help to shape my personal pedagogy" - "Fantastic to hear about an author's approach to writing books" - "Good to hear about reading for pleasure as a central principle of inspiring young children" - "Wonderful to hear a 'real' author's journey. Superb!" - "The author just drew you in and it became even more interesting as the talk went on" - "Very engaging"