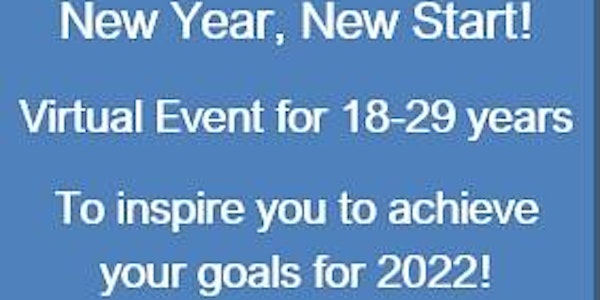 New Year, New Start for 18 - 29 Year Olds in Birmingham & Solihull
Hear from our speakers about how to learn new skills, take steps to improve your physical & mental health, and improve your lifestyle.
About this event
**This session is aimed at those living in the Birmingham & Solihull area**
Join our on line event to:-
find out how to learn new skills
take steps to improve your physical or mental health
make positive life style choices
find out about opportunities if you are a care leaver (you don't have to be a care leaver to take part in this event)
find out how to improve your finances and money management skills
You will hear a brief overview of each of the services below, and if you want to know more, we will connect you with each speaker afterwards.
There will be two sessions:-
Monday 24th January 2022, 11:00 a.m. to 12:30 p.m. (one and a half hours) - Part One - New Opportunities
This will include guest speakers from:-
The National Careers Service West Midlands about how to gain new skills, get help with job seeking e.g. writing a CV, exploring your job & career goals
"Kick Off" - The EFL Trust from Aston Villa F.C. and Birmingham City F.C. - a health, well being & employability programme running from both the above football clubs
Spectra - about the Care Leavers Convenant & opportunities for care leavers
Commonwealth Games - to tell you about the Talent Pool and opportunities available
Stand Out - an employment & training programme working closely with the Commonwealth Games in the Jewellery Quarter and surrounding areas
Straight Up - Catch 22 - for those motivated to leave gangs
Parent Journeys - The YMCA - helping parents get into work by looking at child friendly jobs and other opportunities, as well as enhancing skills
Wednesday 26th January 2022, 11:00 a.m. to 12:30 p.m. (one and a half hours) - Part Two - Positive & Healthy Mindset
This will include guest speakers from:-
HSBC Bank who will tell you about help towards improving your financial well - being
Better Pathways - coaching to support with mental health & well being
CGL - support services to help you cut down or quit smoking or alcohol, to save money and be healthier for 2022
Birmingham Mind - can support you with strategies to to break negative thought patterns, coping with bereavement etc.
Thrive - supporting your mental health and moving closer to the work place
EbikeBrum - getting the benefits from cycling in fresh air and promoting well - being
The Disability Resource Centre - supporting people with long term health conditions to help you join an inclusive work place
You can attend either or both sessions, the choice is yours.
The event will be delivered via MS Teams.