Percy's Cafe Bar and POW Promotions presents... NEW YEAR'S EVE PARTY with DJ Sounds To Consume + live performances from DEAD HAPPY + UNF
About this event
Percy's Cafe Bar and POW Promotions proudly presents...
NEW YEAR'S EVE PARTY LIVE AT PERCY'S with...
DJ SOUNDS TO CONSUME
LIVE DJ!
LIVE FROM 11:00pm - 2am
Bringing you the best in Old Skool from the 80's, 90's and 00's Dance and Club Classics, right up to present day EDM!
Trance and Ibiza Classics!
Techno, Rave, DnB, Dubstep, Hip-Hop, Funk, Disco, Jungle, Electro Rock and much much more!!!
https://www.facebook.com/Sounds2consume
https://m.mixcloud.com/oli-williams2/
Plus Special Guest Live performances from DEAD HAPPY and UNF.
DEAD HAPPY
Freaky Disco Rock from the Midlands.
For Fans of Mindless Self Indulgence, System Of A Down, Electric Six and Twenty One Pilots.
Dead Happy don't write songs, they "conduct experiments", if Frankenstein got into the music business the result would be Dead Happy. The mad man behind this eccentric abomination is Professor Partorius who utilizes elements from the likes of Mindless Self Indulgence, System of a Down and Electric Six among others.
Since bursting into existence back in 2010, Dead Happy have played such festivals as Boomtown, Bearded Theory and at the start of 2020 (the year we do not speak of) Dead Happy joined forces with funk rock legends Electric Six who are famous for such hits like "Gay Bar!" and "Danger! High Voltage!" to record the track "My Sex Appeal".
Dead Happy officially released their single "Off Switch" on Friday 26th March 2021.
"Something about it made me want to listen again and again... it sounds like Pendulum goes to the funfair" – Kerrang
"A revelation and if you are looking for something different look no further, 10/10" – Midlands Metalheads
Spin the music of Dead Happy and have a brilliant party - it will work!" - Emerging Indie Bands
"Bands rarely blow me away but Dead Happy do just that and give off an incredible vibe like no other!" - Punksalivegigs
"This band is doing something different and doing it well" - Metal Fanzine
"Dead Happy are a breath of fresh air in an otherwise stagnant genre that hasn't seen much progress since the early Millennium" - Cassette Culture
"If, like me, you are sick of the same regurgitated metal clones, go see Dead Happy. You won't be disappointed" - Smash Mouth Metal
"An asset to any festival" - Miss Gish
http://www.deadhappyband.com/
https://www.facebook.com/DeadhappyBand
https://open.spotify.com/artist/3UyhCB1LFDHivxcKDMT4iy
https://www.youtube.com/user/deadhappyband
https://www.reverbnation.com/deadhappyband
https://soundcloud.com/deadhappy
https://www.instagram.com/deadhappyband/
https://twitter.com/DeadHappyband
UNF
CALLUM ROSS – LEAD GUITAR & VOCALS
STUART DAVIDSON – DRUMS
EUAN PIRIE – BASS GUITAR
UNF ARE A HIGH ENERGY ROCK BAND BASED WITHIN THE UK. CREATED BY LEAD GUITARIST CALLUM ROSS AND DRUMMER STUART DAVIDSON IN ABERDEEN, SCOTLAND IN 2014, THE BAND HAVE HAD MANY LINE-UP CHANGES SINCE THEN BUT STILL INCLUDE THE FOUNDING MEMBERS.
UNF HAVE BEEN INFLUENCED BY MANY OF THE ROCK GREATS INCLUDING LED ZEPPELIN, AC/DC, MOTORHEAD AND STATUS QUO.
CALLUM ROSS WAS BORN IN GREAT YARMOUTH, ENGLAND IN 1994. HE RELOCATED TO ABERDEEN, SCOTLAND IN 2004 AND BEGAN PLAYING GUITAR AT THE AGE OF FOURTEEN AFTER ATTENDING A STATUS QUO CONCERT WITH HIS BROTHER. SINCE THEN HE HAS ALWAYS WANTED TO BE IN A BAND. CALLUM PREFERS TO PLAY HIS MODIFIED BLACK FENDER TELECASTER WHICH HE HAS USED FOR ALL RECORDING WORK AND LIVE SHOWS. HE IS THE CREATIVE FORCE IN THE BAND WITH DRIVING GUITAR RIFFS, MEMORABLE VOCALS AND ISN'T KNOWN TO USE MANY EFFECTS AS "KEEPING IT SIMPLE" IS HIS PHILOSOPHY.
STUART DAVIDSON WAS BORN IN ABERDEEN, SCOTLAND IN 1992 AND IS THE OLDEST MEMBER OF THE BAND. HIS MUSICAL INFLUENCES INCLUDE PHIL RUDD OF AC/DC AND TRAVIS BARKER OF BLINK 182. STUART HAS BECOME KNOWN FOR HIS ONSTAGE ANTICS AND HIGH ENERGY LEVELS. HE HAS A SIMPLE NO FRILLS APPROACH TO DRUMMING AND THIS HAS BECOME A LARGE CONTRIBUTION TO UNF'S SOUND.
EUAN PIRIE IS ALSO FROM ABERDEEN, SCOTLAND AND WAS BORN IN 1999. HE IS THE NEWEST AND YOUNGEST MEMBER OF THE BAND. EUAN WAS ORIGINALLY A GUITARIST AND FRONTMAN FOR HIS OWN BAND AND ONLY JOINED UNF AS A BASSIST TO HELP OUT, BUT HE LIKED THE BAND AND NOW HAS BECOME A FULL MEMBER. EUAN LISTS HIS BIGGEST INFLUENCES ARE SLASH AND BILLIE JOE ARMSTRONG OF GREEN DAY. HE PLAYS A FENDER JAZZ BASS AND CONTRIBUTES TO VOCALS BOTH BACKING AND LEAD.
unfonline.com
https://www.facebook.com/UNFofficial
https://open.spotify.com/artist/4sF321HoMgLcfT3OHRBxmj
https://www.youtube.com/channel/UCeb5VXzjZCHj6JD_emLmfIg
https://www.instagram.com/unf_online/
https://twitter.com/unfonline
Set times:
UNF 8:45pm - 9:30pm
DEAD HAPPY 9:45pm - 10:45pm
DJ SOUNDS TO CONSUME 11:00pm - 02:00am
Times are approximated and may be subject to change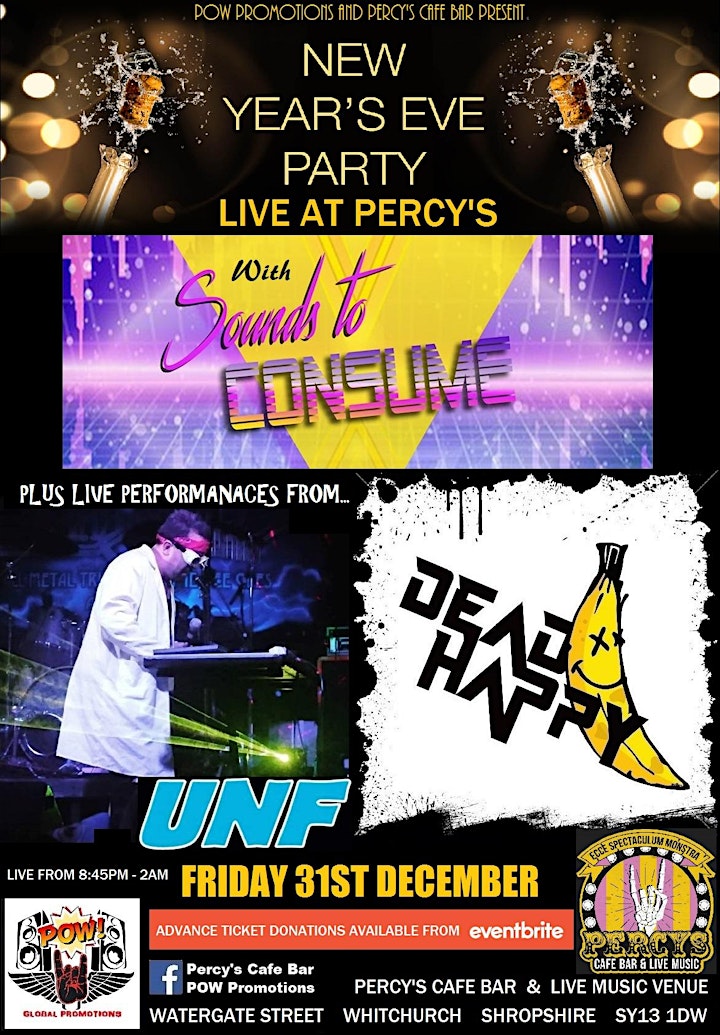 Organiser of NEW YEAR'S EVE with DJ SOUNDS TO CONSUME + Special Guests DEAD HAPPY & UNF