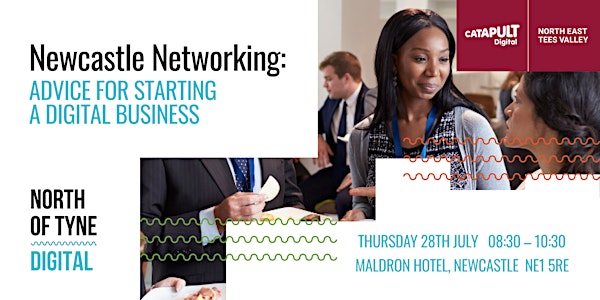 Newcastle Networking: Advice for Starting a Digital Business
Location
Maldron Hotel Newcastle
17 Newgate Street
Newcastle upon Tyne
NE1 5RE
United Kingdom
A networking event for anyone interested in starting or already owning a digital business.
About this event
In collaboration with NTCA Digital, we aim to bring people together from all walks of life to talk to one another and to foster a collaborative approach towards growing the number of digital businesses in the North East of England.
As such, regardless of whether you have a digital business idea or an established tech business, or whether you are just intrigued about how to get started in business, everyone is welcome to our networking events.
The usual structure of these events will entail some short tech founder's inspirational talks, a structured networking session, and an open networking period…
If you've never attended a networking event but want to try attending one, please do come along and the team will be on hand to be the first people you get to know.
We have two inspirational speakers for you that are happy to talk through their digital business journey, from initial ideas to forming a business and growth.
- Mark Renney, founder of Wubbleyou
- Paula Donnelly, Director of LAYERS
Additional Information
Our events are brought to you by the North East Tees Valley Digital Catapult and the North of Tyne Combined Authority. We have an array of fully-funded support to help bring new digital businesses to life.
If you have any questions about this event, or if there's anything we can do to make this event more accessible for you, please don't hesitate to get in touch with us. You can contact our Engagement Specialist, Al Alzein, via email at al.alzein@sunderlandsoftwarecity.com or by calling 07719 030607
The purpose of this event is to raise the profile of the new support available to residents of the NTCA and encourage their participation in our campaign to increase the pipeline of new digital businesses. Using inspirational speakers and the ability to engage with peers gives more confidence to progress business ideas and develop links into the wider digital ecosystem. While the event is aimed at residents with ideas and thoughts on starting a business it's helpful to have more established businesses there too for connections to be made and encouragement.