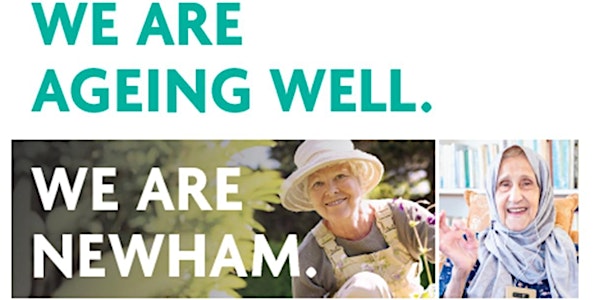 Newham voluntary , faith & community sector Ageing Well Strategy sessions
Newham's voluntary, community and faith organisations are invited to help develop and deliver the Ageing Well strategy.
About this event
This online event is aimed at people who work in Newham's voluntary, community and faith organisations.
Newham's Ageing Well Strategy
Newham Council's Adults and Public Health teams are working with partners to develop an ageing well strategy and action plan to improve the health and wellbeing of residents aged 50+.
Over the past few months we have been gathering data and insights from residents and stakeholders to identify priority areas for action and changes residents would like to see. Thank you to all those who have contributed to this.
The strategy and action plan will cover many aspects of residents' lives, all of which affect health and wellbeing. This will include: information and communication; homes; finance, employment, volunteering and retirement; communities, social connection and neighbourhoods; NHS and social care services; and planning for later life.
As a voluntary, community or faith organisation, your insights, skills and services will be essential to creating and delivering a strategy and action plan that is meaningful and successful.
Date and Time
Tuesday 25 January 2022 from 9.30 – 1230pm via Zoom
Attend this online workshop to:
Find out about the ageing well work and progress so far.
Give feedback on the draft action plan and make suggestions for actions or issues that the action plan should cover.
Sign up to get involved in developing and delivering actions in the final action plan.
Promote your organisation or service and build connections with other organisations and partners.
What else do I need to know?
After you sign up, please:
1. Sign up for two breakout sessions – through this MS Form: https://forms.office.com/r/Ni9st5LY7U
2. Send us a short description of your organisation's name, contact details and what you do (max. 100 words). We will post this on an online notice board, which we will share with all those who attend the session. Please send this by email to noor-e-hira.ahmer@newham.gov.uk before the session. (Optional.)
We look forward to having you all there and thank you in advance for your continued support.