Networking Coffee Morning For Female Business Owners in The Newry Area
About this event
NETWORKING COFFEE MORNING
Who can attend? 
If you are a woman who is working alone, or as part of a small business, self employed or employed or you are starting your own business, please feel free to attend. 
Mums at Work is hosting a series of coffee mornings and networking events (hopefuly in-person but also online) across Northern Ireland every month to help women overcome the isolation of working alone, and to gain contacts, ideas, learn, advise and support each other. 
What is involved? 
All attendees can do a quick introduction when they arrive to give their name and what their business / role is so that everyone can get to know each other. All attendees will be provided a attendee list with business details, links and handles for future communication, purchases, collaborations & referrals. Included in the ticket is tea / coffee and refreshments.
What is Mums at Work?
Mums at Work is a Network for Female Business Owners. It consists of like-minded women in business. We would love for you to join us! In The Mums at Work Network, you instantly form connections with other motivated women who want to see you achieve your goals. Mums at Work's membership is as diverse as the women, made up of business owners, entrepreneurs, and female professionals.
Our female business community is unique as we provide online support, resources and hybrid approach to networking.
Take a look at some of our past events below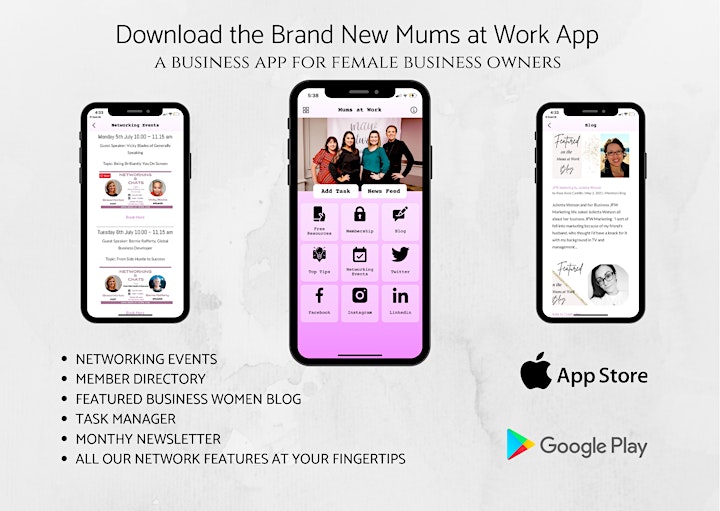 Your Host for this Event is Maggie Brady, owner of Pearl Re Designs
Maggie, mum of 2 is an Interior designer based outside Newry, Co.Down with over 15 years experience in Interior design, from residential and more recently small commercial projects.
About Maggie
She began her career in Nursing and travelled to New York for a new experience. There she travelled the country. She was also grateful to have visited Hawaii, Bermuda and many other beautiful places of natural beauty with stunning architecture, colour and style.
She later married, bought her first house and together with her then husband refurbished it completely. As the family grew, so did the houses and her love for interior design became apparent. She began to follow her passion for interior design. Each home she worked on taught her something new about history, architecture and her own ability to learn new skills.
She has over the past 30 years designed, painted and DIY styled her way through many interiors including her own. Learning how to manage budgets, taught her how to be frugal when necessary, which in turn led to her love of recreating something new from the old. There were many amazing quality pieces of furniture along the way, with a great supply of unique and quirky items that she sourced from flea markets, antique / salvage shops and garage sales. They in turn enabled her to create a high end look for less. Herein began her passion for Upcycling.
Her Interior style is simple but elegant, a classic mix of vintage, modern and antique; a collected look if you like. In 2011, after 25 years in New York she returned to Ireland. Her experiences there taught her resilience, how to embrace change and to keep growing no matter what she encountered.
So in 2015 Pearl Redesigns was born. Practising interior design, painting and upcycling, meeting new clients and creating dream spaces never feels like work. It's a creative journey and a passion she loves to share.
Maggie has been a VIP Member of Mums at Work for over 3 years, has attended many events and made lots of connections and supported lots of members of the network. Therefore, she is an ideal host for the in-person networking event.
Organiser of Newry Mums at Work Networking Coffee Morning
Business Mum of 7 Children is the founder of The Mums At Work Network, a community of like-minded women who meet up for networking events and conferences. Her aim is to connect professional women so that they can support and assist each other and learn from each other.
The mission of The Mums At Work Network is to connect business women and entrepreneurs so they can support each other, collaborate with each other and refer each other.
Join us for our online networking events and mastermind sessions for women. Grow your business by making new business relationships while learning effective strategies for your business.

All attendees have the opportunity to introduce themselves for 60 seconds and to share their business details with the other attendees. (This is not a pitch, just a casual intro)

We then discuss current challenges faced by businesses, our goals and mission for the year ahead and share advice and tips with each other.

Our networking events have 3 goals:

To help you connect with your peers. The Mums At Work Network has over 4000 members who are interested in connecting with each other to support and learn from each other.
To encourage collaboration, as two heads are better than one. We hope you will find others to collaborate with on future projects. For instance, everyone has different talents and skills and, not only can we learn from each other, we all bring a different element to the table.

To encourage referrals. Because people buy from people they like know and trust, and from those who are endorsed by people they already trust. So we aim to build relationships between business owners. This is so they can maximise third party referrals.

What to expect from our online networking events

Meet online other business owners who you could potentially collaborate or build a referral relationship with.

Meet other business women to get ideas from and to help you focus on your business and gain insight on how to run your business better.

Above all, feel motivated and supported as you meet other business women just like you.

Our meetings and networking events are hosted on ZOOM

Find out more about The MAW Network here https://mums-at-work.com/

Join our Group on Facebook FREE Here https://www.facebook.com/groups/TheMawNetwork

Our networking events are FREE for our Mums at Work VIP Members and your discount code will be provided in the VIP Members area and VIP Group on Facebook. Therefore, please visit the members areas and enter your code on checkout to take advantage of your membership discount.

Join as a VIP (paid) member of our network for only £49.99 / year


https://sineadnorton.podia.com/
Attend our networking events for FREE

Add your details to our online business directory

Network in our VIP Group

Advertise to our larger network of 4000 women

Feature on our social media
Use Our Tools to help Your Business
Firstly, join our Facebook Group for Female Business Owners - The Mums at Work Network Group
Secondly, find us also on Instagram and see all of our top tips, events, featured members and more!
Most importantly, you can also download the Mums at Work App from The Google Playstore or the Apple Appstoreand get updates and top tips straight into your hand.
Finally, if you are interested in joining our network, read more here, or visit our membership area.