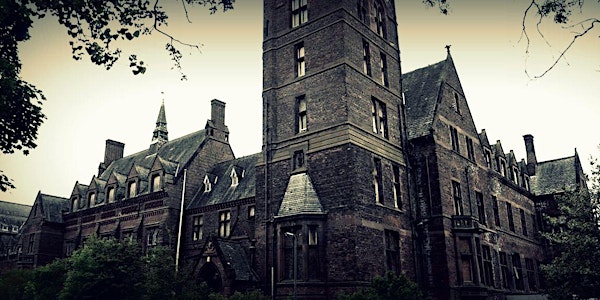 Newsham Park Asylum and Orphanage Ghost Hunt with Dusk Till Dawn Events
Location
Newsham Park Hospital
Orphan Drive
Liverpool
L6 7UN
United Kingdom
This ghost hunt is sure to tick all the boxes for avid ghost hunters and anyone looking for the ultimate fear factor experience!
About this event
Join us at the Abandoned Newsham Park Hospital and Orphanage in Liverpool Merseyside, this is the night you have all been waiting for! If you like to be scared, then really is the place for you!
Dusk Till Dawn Events invites you to spend the night ghost hunting at this extreme and terrifying location.
This ghost hunt is sure to tick all the boxes for avid ghost hunters and anyone looking for the ultimate fear factor experience!
This vast grade 11 listed Victorian building which was built in 1870 and designed by Alfred Waterhouse; who also designed the Manchester Town Hall and the Natural History Museum in London lies on 3.5 acres of private fenced off land and has an interior size of 99,000 sq ft.
It is set overlooking 200 acres of parkland and a large lake and must be one of most terrifying places we have ever visited. Now derelict this locations historical background is that of an orphanage, a hospital and in later life a nursing home.
This building is very intense and foreboding, its massive in size with so many spooky corridors, and hidden rooms to get lost in, as well as some new areas to investigate and discover, such as the haunted psyche cinema and the attic room.
On the upper floors of the building the original old hospital wards can be found along with eerie staircases and creepy rooms. This building has been left abandoned and has lain dormant and desolate for many years and much of the paranormal activity that is said to have occurred over the years has been reported by security staff whilst patrolling the location.
Whispering, strange, echoing voices and whistles are said to have been heard, along with dark shadowed figures, which have been seen fleeing up the stairs and corridors; as if eager not to be seen by onlookers.
In the lower depths of the basement area, a young girl dressed in a long white night gown has been seen, stood on the basement steps only to disappear from view when approached, could this be a former patient, now haunting this daunting place! Further down into the basement the creepy locker room can be found, where a man's voice was heard and the throwing of an old rusty nail was once witnessed flying through the air from the other side of the room, hitting one of the locker doors violently and aggressively, as if annoyed at the people that were inside the room at the time.
Strangely workmen have also reported that tools that they had been using; were moved without explanation only to find them in other parts of the building. The abandoned Newsham Park Hospital and Orphanage is certainly one for the bravest of visitors only, this building has an intense and foreboding atmosphere which hits you upon entering the venue; we know that you will not want to miss the opportunity to investigate this amazing horror movie style location during darkness hours, with scary corridor after corridor, bone chilling sights and a mass of rooms to discover, this really is going to be a night to remember forever!
A terrifying place of sorrow, fear and much emotion, who knows what will happen during the night when you join us from Dusk Till Dawn!
Dusk Till Dawn Events have this unique building for an entire night's investigation and you have the chance to join in your very own ghost hunt at one of the UK's most haunting locations.
You will have full use of ghost hunting equipment and you can take part in various experiments such as table tipping and glass divination and watch and wait vigils throughout the night in the most active parts of the location.
This really is ghost hunting at its best inside this fantastic, haunted location, but remember there may be no heating at this building. It may be very cold also dark so wrap up warm and bring torches.
Please bring your own hot, cold drinks and snacks with you if required, strictly no alcohol thank you.
Join us if you dare!
Please Note:
Before booking this event please read the following as per our terms and conditions that are agreed at the point of sale:
All payments are non-refundable and non-transferable regardless of any circumstances.
When you make a booking with us it is entirely your responsibility to ensure that you are able to make the event date that you have booked, as Dusk Till Dawn Events cannot offer a refund or transfer your places onto another event date if you or any of your party are unable to attend.
The reason for this is that all places are paid for in advance to our locations, which means we are still liable for these costs even if you cannot attend the event.
Please Note: There are no sleeping facilities available.
Over 18's only.
Important: If anyone arrives under the influence of alcohol or drugs and/or is suspected of bringing alcoholic drinks to the event, they will not be allowed to stay for the night and will be asked to leave the premises immediately.
This event is regrettably not suitable for anyone with mobility issues.
Bookings are made through Dusk Till Dawn Events only do not contact the Location.
*Prices are subject to change without notice see our Terms and Conditions for more information.
Copyright © 2022 Dusk Till Dawn Events The Ghost Hunting Company
#DuskTillDawnEvents #Paranormal #GhostHunt #GhostHunting #NewshamParkHospital #NewshamPark #Asylum #Orphanage #Liverpool #GhostHunt #GhostHuntingEvents
Newsham Park Hospital, Asylum and Orphanage Ghost Hunts