Description

BOOK NOW FOR THE NEXT GENERATION NETWORKING EVENT ON
27TH APRIL AT THE SEVENOAKS BUSINESS SHOW
For April only we will be holding our regular NG networking on the last Friday of the month to co-incide with the Sevenoaks Business Show. This is a great opportunity to network at the House in the Basement located underneath The Stag Plaza and to visit the business show after the event, to see the Sevenoaks vibrant business community in action!
We are also pleased to offer a business talk "SHOW ME THE MONEY!" A brief introduction to raising capital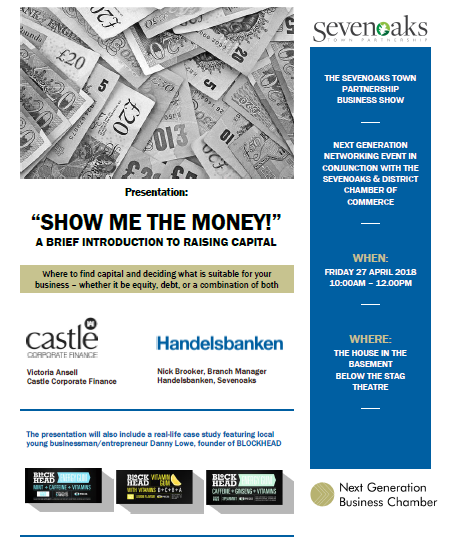 Nick Brooker, from Handelsbanken Sevenoaks and Victoria Ansell, Consultant with Castle Corporate Finance will provide an introductory insight into the variety of funding choices available to help businesses and help you understand what could be right to support the growth and success of your own business.
We hope you can join us for this fantastic networking opportunity.