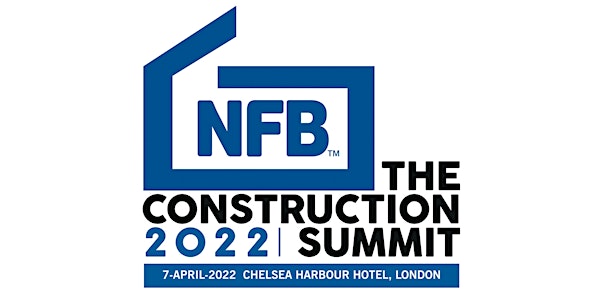 NFB Construction Summit - The Future of Construction: Leading for Success
The NFB Construction Summit is open to the whole of Construction and will take place on the 7th April 2022
About this event
The NFB Construction Summit will take place on 7th April 2022 at the Chelsea Harbour Hotel, London. The theme of the Summit will be "The Future of Construction: Leading for Success" with a day that's split into 2 distinct sessions. The morning session will focus on people and culture and the afternoon session leads on creating a sustainable organisation.
The event itself has a number of prestigious names speaking including:
Shaun Wane (England Rugby League Head Coach)
Michael Caulsfield (Brentford FC Sports Psychologist)
Ann Bentley (Transforming Construction Chair)
Henry Staelens (CEO Forest Green Rovers, FIFAs greenest football club)
amongst many others.
Organiser of NFB Construction Summit - The Future of Construction: Leading for Success
The National Federation of Builders (NFB) is the construction industry's longest established trade association and has grown in stature since its origins in the late 19th century. The federation represents companies involved in the building and construction industry in England and Wales.
Today, the NFB is a modern, proactive organisation that has steadily built up a reputation for sound judgement, high media profile and a robust approach to protecting members' interests.  The federation provides expert advice for members on legal, employment, financial services, taxation, procurement, health and safety, environmental, technical, training and government funding issues.