Description
Hosted by Andrew Bainbridge and Mark Valentine, one of the most experienced location teams in the north east who have worked together on The Witness for the Prosecution, City and the City, Vera, Inspector George Gently and many more regional and national productions.
Learn about the importance of the location department and how it affects and interacts with other departments in the production. Understand the skills involved in bringing together the production team and the location ensuring the director gets his shot and the location owner remains happy. Discover what roles there are within the department what makes a good location manager or unit manager – is the job organisational, or creative?
We have 15 places on this Masterclass. To be eligible you need to be over 18, based in the north east and looking for work in the film and TV industry. 3rd and final year students welcome to apply.
To apply for a place register by following the link above. Send your CV along with 150 words explaining why you should be considered for this opportunity to info@nfmacademy.co.uk. If this information isn't received you will not be considered for a place.
We will notify those who have successfully gained a place on this Workshop on 3rd November.
If you have any questions regarding this event or the NFM Academy, please email info@nfmacademy.co.uk.
Thanks to the support of our funders there is no charge for this event.
___________________
Supported by Creative Skillset, NFM Academy aims to increase the North East's crew base by identifying skills shortages and implementing training and up-skilling opportunities within production, with a particular focus on high-end drama.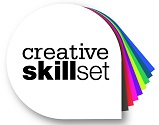 Northern Film & Media is supported by the European Regional Development Fund

Northern Film & Media has been funded by the European Regional Development Fund Creative Industries Business Support and Development Programme 2014-20. The ERDF programme is bringing over £300m into the North East to support innovation, enterprise and business support across the region. This is partly funded by the European Commission.