NFM Crew Academy presents a Tees Valley Screen event: Focus on Factual
Sales Have Ended
Registrations are closed
Booking for this event is now closed and we will not be able to admit additional attendees. Please check for other Tees Valley Screen and Northern Film + Media events to book.
Sales Have Ended
Registrations are closed
Booking for this event is now closed and we will not be able to admit additional attendees. Please check for other Tees Valley Screen and Northern Film + Media events to book.
NFM Crew Academy presents a Tees Valley Screen event: Focus on Factual. Find out everything there is to know about working in factual
About this event
Do you work in the North East screen industry? Looking to get your big break or are you just starting to dip your toe into the industry? Are you thinking about a career change and looking to cross over to factual from drama or video journalism? You may want to work on hard-hitting tear-jerkers such as BBC's Ambulance or see yourself on location as a Shooting AP for Countryfile. No matter your background or experience in the industry, or what your goals and aspirations are, our Northern Film + Media Crew Academy: Focus on Factual event is an amazing opportunity to hear all about the joys and challenges of working in factual TV production from top industry professionals.
There are a plethora of incredible opportunities coming up in the North East and many of these will be factual roles. If you want to get yourself on any of these factual productions, then this is your first step.
You must be 18 or over to book on this event and living in the North East. Preference will be given to those in the Tees Valley area.
The Event
Hosted at Base Camp, Middlesbrough, we are hugely excited to have a top-quality panel of speakers to share their knowledge at our first in-person learning event for almost two years.
The brilliant speakers on our panel are:
Duncan Gray - Founder of Twenty Six 03. Duncan has been responsible for bringing some of the most popular, memorable and ground-breaking entertainment shows to TV audiences in the UK and the US over the past 25 years. He is credited for developing and later serving as Executive Producer on Channel 4's The Big Breakfast, as well as commissioning Britain's Got Talent and overseeing The X Factor for ITV as Controller of Entertainment.
Most recently Duncan has been smashing it as Producer of North-East docu-series Angels of the North.
Emma Sheldon – Director of Production in Entertainment, Fulwell 73. Emma is an experienced Director of Production with a demonstrated history of working in the entertainment genre of the broadcast media industry. Skilled in production management, media production, live events, entertainment, sports presentation, gaming and digital media, Emma has produced live shows in both broadcast and digital content for over 20 years and currently heads up the entertainment department at Fulwell 73. She has previously produced live comedy for Netflix, live music for the BBC, Channel 4, Apple, Red Bull, MTV, and a multitude of other bands and brands, as well as coverage of the Rugby World Cup.
Emma is passionate about team building and always strives to put the best team together for a project. Her finance knowledge along with her management skills ensures that projects stay on time and always in budget.
Mark Robinson - Creative Director at Wise Owl. Before starting Wise Owl Films in 2018, Mark worked at ITV Studios in Leeds and Newcastle, creating more than 200 different series and prime-time specials for ITV, the BBC, Channel 4, Channel 5 and Sky.
Mark created Shiver in 2007 - ITV Studios' first label and the maker of series including Come Dine With Me. Mark has worked closely with many of Britain's best-loved television stars including Peter Kay, David Jason, Robson Green and Trevor McDonald.
Wise Owl is Lime Pictures' Leeds-based office, and the team's many commissions have included Yorkshire Firefighters, Second-Hand For 50 Grand, When Bob Marley/Nirvana Came To Britain, Guy Garvey: From The Vaults and The Metro: A Rail Life Story.
Thanks to a combination of the A1 and LNER, Mark has managed to live in County Durham throughout his career in television.
Our panel will share their experience and engage in a roundtable discussion panel during the event. They will let us in on their expert knowledge of the unique benefits and challenges of factual production in the North East, touching on topics such as the BBC's announcement of £25 million of commission funding for the region, followed by a short Q&A.
Afterwards, our invited industry professionals including Melanie Rainbow, Production Manager at Fulwell North, Fulwell 73's North East base, and Alan Fentiman, a local self-shooting Producer-Director legend, as well as our panellists will break out to a session of networking opportunities for experienced crew and new entrants alike. For anyone considering roles in factual, this event is not to be missed.
This Tees Valley Screen event would not be possible without the support of the Tees Valley Combined Authority and European Regional Development Fund (ERDF).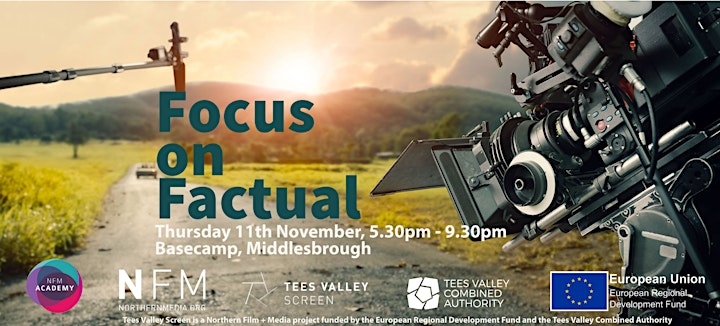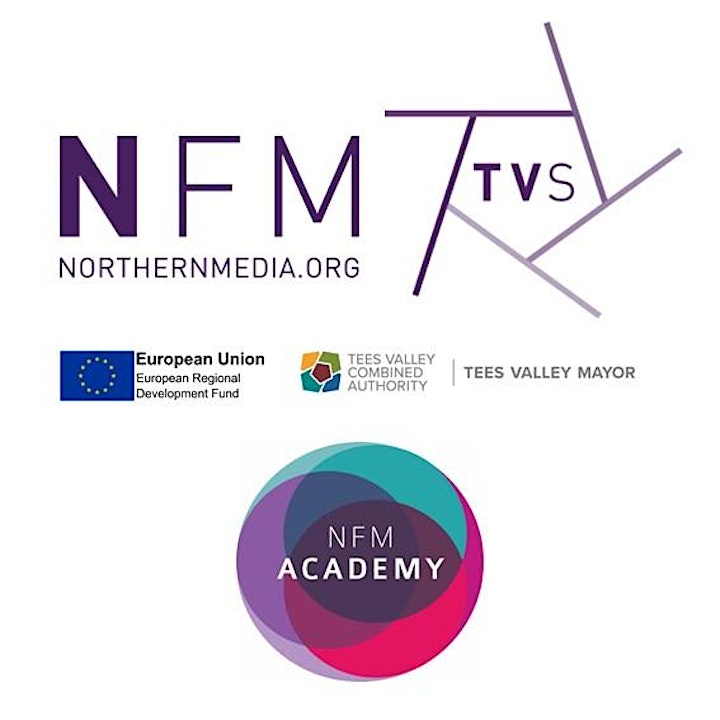 Organiser of NFM Crew Academy presents a Tees Valley Screen event: Focus on Factual
Northern Film + Media is North East England's creative industries development agency. We work with emerging professionals, indigenous filmmakers, production companies and artist filmmakers specializing in film, TV and screen-based arts. www.northernmedia.org
We offer a North East wide production service to film and TV production encouraging them to use the north east's locations, crew and facilities, engaging them with local authorities and local businesses.
We provide an online database for locations, crew and facilities.
We are working with partners to secure funding for further work in the North East.
Our Tees Valley Screen project is funded by Tees Valley Combined Authority and ERDF https://northernmedia.org/project/tees-valley-screen/
North East Comedy Hot House is a first-of-its-kind comedy co-op cultivating regional talent, both on and off screen https://northernmedia.org/project/ne-comedy-hot-house/
NFM Academy aims to equip those interested in a career in film and TV with the knowledge and the skills required to find work http://northernmedia.org/project/nfm-academy/