NHS Pensions For Dummies/Doctors
"I could do with the session called NHS Pension for dummies!" Well here it is......
About this Event
We know that most medical professionals don't get much financial education and in particular the NHS Pension Scheme can be an area that leaves you confused.
We specialize in financial advice for medics and we regularly get the feedback "I could do with a session called NHS Pensions For Dummies!"
....Well here it is!
A session designed for those with little knowledge of the scheme who want to understand it better and tick this off their personal to do list!
Feedback from previous talks:
" I found it really helpful to make me think about the future. It can be difficult to think that far ahead but your advice about planning for the future you want was eye opening. No one has ever explained how the pension scheme works so I would be very interested in hearing your next talk! " - Dr S S
"I personally found the webinar really useful. Since your webinar, I've spent more time looking into my finances than I have in my entire career (granted only 5 years in so far!) but it really did kickstart my financial mind in a way that I truly didn't expect and I would be really keen to be part of your programme " - Dr S C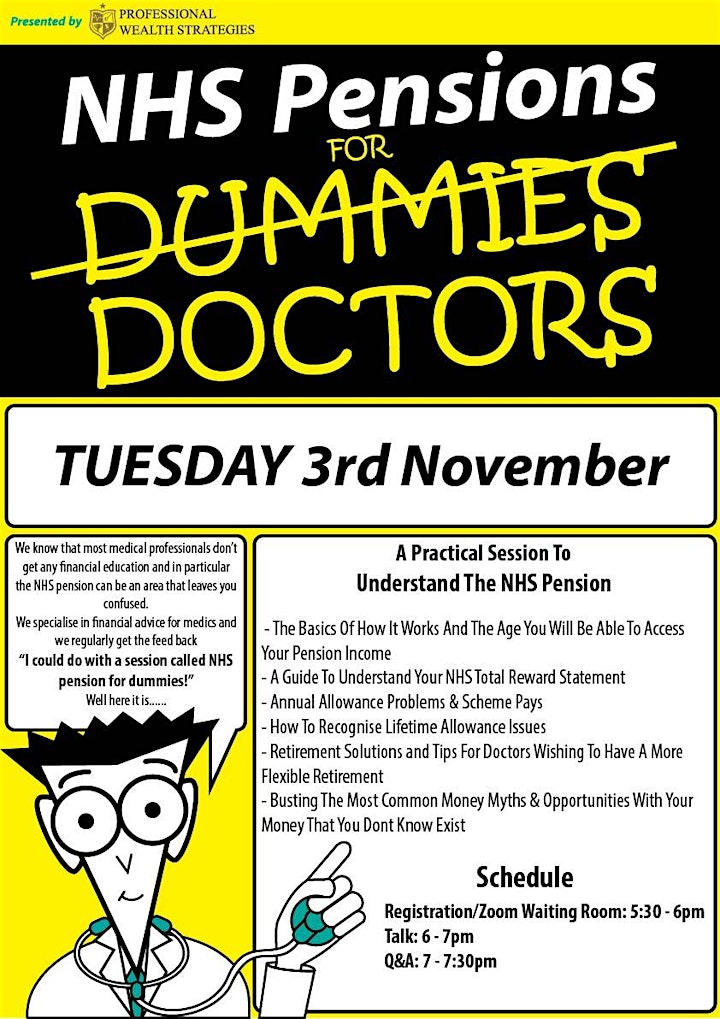 Date and Time
Location
Refund Policy