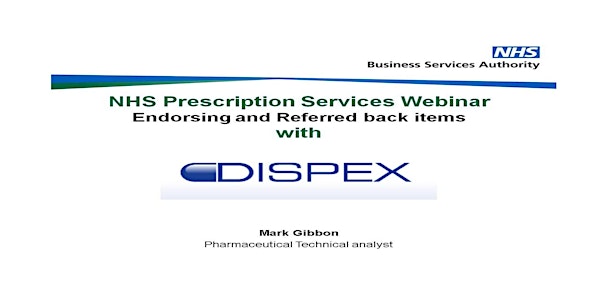 NHSBSA and Dispex Webinar - Endorsing inc Referred Backs
Endorsing including Referred Back Items Thursday 16th September, 1.00pm-1.45pm
About this event
Help and guidance on the most common endorsing problems.
To ensure you receive correct reimbursement for the products you dispense and the correct renumeration for the services you provide
To share information on how the NHS Prescriptive Services process your prescriptions
How you can help to reduce or eliminate the need to refer prescriptions back to you
Register now and find out how to help prevent losses within your Dispensary.
You will receive a confirmation email on completion of your registration, this will include a link to the event to allow access to the Webinar - please ensure we have your correct email address.
www.nhsbsa.nhs.uk
www.dispex.net 01604 859000 sales@dispex.net