#infracafé on Circular Economy - a regenerative approach to our planet where we make the most of our resources and minimise waste.
About this event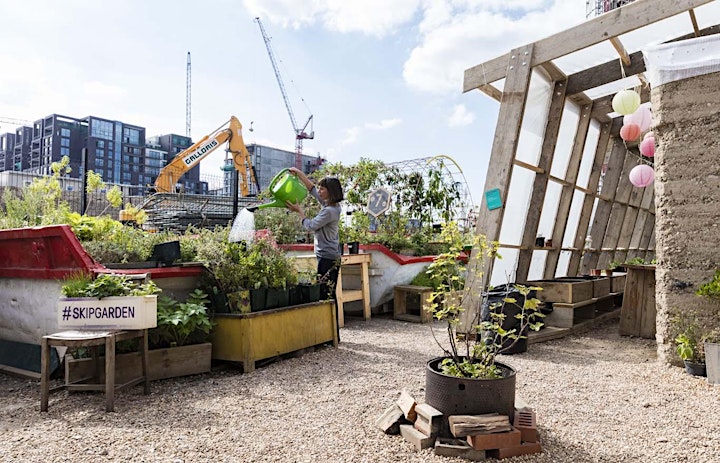 Over the past few years, we have been flooded with images of plastic in the sea, and the devastating impact this has had on the Earth's natural habitat. As consumers we have limited choices as most food is shrink-wrapped and packaged in excessive amount of plastic. We have seen a renaissance of farmers' markets and organic food, but this is still a real choice only for the few, and mass industrial framing practices are a dominant source of food. Why is it taking so long for governments to take action, and what strategic policies are already in place to tackle this crisis, from the household waste through to alternative built environment approaches to new development?
Circular economy is a regenerative approach to our planet where we make most of our resources and minimise waste. The first-ever Europe-wide strategy on plastics, adopted in early 2018, is a part of the transition towards a more circular economy. At the same time, London is spearheading circular economy planning guidance, which is due to be published later this year.
In the discussion, we will hear from experts involved in shaping London's circular economy planning guidance, the NIC's recommendations on waste and recycling in the first National Infrastructure Assessment and designers involved in building projects adopting a circular approach. The event will take place at Kings Cross Skip Garden – a movable vegetable garden built in skips, which has grown into a community project where everything is built using recycled materials.
Speakers:
Joseph Henry, Senior Project Officer, Regeneration and Economic Development, Greater London Authority (GLA)
Anna Webster, Interrobang - transdisciplinary architecture and engineering practice
Rick Wright, Senior Policy Advisor, National Infrastructure Commission (NIC); NIC waste recommendation lead
Petra Marko (chair), Co-Founder, Marko&Placemakers / Director, Solidspace; Member of NIC Young Professionals Panel
#infracafé is an initiative of the National Infrastructure Commission Young Professionals Panel (YPP) opening up debate on infrastructure topics to younger audiences in informal settings. #infracafé on Circular Economy is brought to you by the YPP with support from Central Saint Martins Spatial Practices Programme.
Speaker bios:
Joseph Henry is a Senior Project Officer in the Greater London Authority Regeneration and Economic Development team. He completed his architecture studies at University of Brighton and at The Cass, where he also undertook a masters in Spatial Planning and Urban Design. Joseph has previously worked at architecture and urbanism practices Jestico + Whiles and Urban Projects Bureau where he has worked on projects in a range of sectors and scales. He is a Visiting Lecturer at the Victoria & Albert Museum, where he runs workshops to help young adults into careers in design, offering advice on how to apply for university and key skills for finding employment.
Anna Webster studied at Chelsea College of Art and Design, Manchester School of Architecture and London Metropolitan University where she was awarded the faculty prize for "Social Entrepreneurship". She joined Interrobang in 2016 and since then has worked on a range of projects including residential, refurbishment, arts and community projects. At Interrobang, Anna is a member of the 'Circular Economy Task Force', helping to review past and present projects and keep the practice up to date with the latest circular economy thinking. Recently, Anna has worked on a demountable timber community food market and hydroponic farm in Ilford, East London and on the refurbishment of an art deco ABC cinema into a performing arts centre in Dalston.
Rick Wright is a policy adviser at the National Infrastructure Commission leading on the Commission's suite of recommendations on waste and recycling from the 2018 National Infrastructure Assessment. These include recommendations to improve consistency in collections to drive up recycling rates, an ambitious 65% recycling rate by 2030 and incentivising the use of recyclable materials and design in packaging. Prior to joining the Commission Rick worked in policy and public affairs at several non-profit and industry bodies, looking at health, employment and skills policy.
Petra Marko is an architect, communicator and enabler of projects within the urban realm. She is Co-founder of Marko&Placemakers, where she led placemaking strategies and town centre studies for public and third sector clients; and director of Solidspace - an independent housing developer on small sites in London. Petra is a member of the National Infrastructure Commission's Young Professionals Panel, and a member of the VeloCity placemaking team advocating for car-free developments and active travel for all ages. She taught at the London School of Architecture, contributes to industry journals and is a regular speaker at forums concerned with livable cities.
About the NIC Young Professionals Panel
The Young Professionals Panel supports and informs the Commission's work and ensures a strong voice for the next generation of infrastructure leaders in the Commission's programme. The Panel brings together professionals from across industry, including architects, engineers, economists and construction experts. Established in 2018 to provide fresh thinking to the National Infrastructure Commission's work in long term infrastructure planning, the Panel's aim is to raise awareness and engage younger audiences in shaping the future of the UK's infrastructure. The Panel is undertaking its own research, in collaboration with independent organizations, to influence thinking and policy on how infrastructure is planned and delivered for future generations. In addition, each member will be assigned to work closely with staff on one of the Commission's work streams.
About Spatial Practices at Central Saint Martins
Spatial Practices at Central Saint Martins is embedded in a globally renowned art and design school, from which we draw a commitment to explore expanded forms of practice and education. Our Manifesto establishes a series of strong and distinctive drivers in which we see the production of space as fundamentally social and political but where we simultaneously support the radical potential of making and building. We want to equip our students with the creative and critical skills to carve new pathways into practice, providing the tools to engage productively and, where necessarily, disruptively with the architectural profession and beyond.
Photo (Skip Garden): John Sturrock