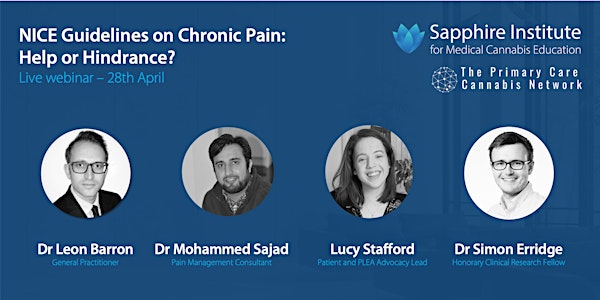 NICE Guidelines on Chronic Pain: Help or Hindrance?
A review of NICE guidance on the assessment and management of Chronic Pain and what this means for professionals and patient in the UK
About this event
After the four-year review NICE will publish guidance on Chronic pain: assessment and management in April 2021. To understand what this means in practice, the Sapphire Institute for Medical Cannabis Education, in partnership with Primary Care Cannabis Network, will host a live webinar to discuss this guidance on 28th April 2021.
We welcome Dr Leon Barron, GP and founder of The Primary Care Cannabis Network as the host of this webinar. Dr Barron will help to disseminate this review for front line doctors and carers who are involved in the care of patients suffering from Chronic Pain.
The panel will also include Pain Consultant Dr Mohammed Sajad. Dr Sajad is an NHS Consultant in Anaesthesia and Pain Medicine at the Dudley Group of Hospitals in the West Midlands, and Pain Specialist at Sapphire Medical Clinics. His expertise range across a variety of pain disorders including Fibromyalgia, Post Herpetic Neuralgia and chronic regional pain syndrome.
Chronic Pain Patient and Advocacy Lead for PLEA, Lucy Stafford sits on the panel to share her experience and discuss how this guidance may impact treatment in the future. Lucy is passionate about working towards a healthcare system that integrates the use of medical cannabis in the UK. As PLEA's (Patient Led Engagement for Access) Advocacy Director, she is committed to enabling access for medicinal cannabis patients.
Dr Simon Erridge joins the panel to share his research and clinical expertise. Within his role at Sapphire Medical Clinics, Dr Erridge facilitates the UK Medical Cannabis Registry and will share what appropriate research needs to be undertaken to drive forward understanding in this field.
By bringing together GPs, Specialists, Researchers and Patients, we hope our attendees will leave with the information they need to understand what this guidance means in practice and further areas for discussion and development. Patients and healthcare professionals are welcome to join this free session.
Wednesday 28th April 2021
19:00 - 20:00 (~60 minutes)
Key topics:
• A summary of the guidance published by NICE
• Practical implications
• What this guidance means for the rapidly emerging field of Medical Cannabis
Sapphire Institute for Medical Cannabis Education and The Primary Care Cannabis Network share a commitment to educate and support the clinical profession and patients considering treatment with medical cannabis. Through this shared commitment, we are collaborating on the distribution of education in the form of e-learning, educational packs and peer support groups.
The Primary Care Cannabis Network was established for GPs who are interested in learning about medical cannabis as an alternative or additional treatment for their patients.
Sapphire Institute for Medical Cannabis Education is a comprehensive platform providing a source of accredited online training and up to date research on Medical Cannabis. Membership is free for healthcare professionals and gives access to a series of online webinars and e-learning modules, the essential knowledge and insight into medical cannabis treatment.