Description
*Please note you can only buy one ticket per email address due to the unique Zoom link received for event access
Join us Nicer Tuesdays May
To those of you who joined up for the success that was our first online Nicer Tuesdays, thank you! And to anyone who didn't, all we can say is, you missed out… Luckily, we're back for May's event with another incredible line-up that's sure to keep you feeling inspired and connected to the wider creative world during this period of lockdown.
We'll be running things in the same way, over Zoom and with a tiered payment system. We took this decision last month to ensure the event was accessible to all but that we could also continue to support the creative industry and pay our speakers their full fee. The event will again take place at 6.15 BST and we can't wait to see you there.
Tickets are now available via the button below so go grab yours, tell your mates to do the same, and once you have, come back to find out more about this month's speakers.
David Shrigley
Originally from Macclesfield, British artist

David Shrigley

is world-renowned for his witty line drawings which sardonically comment on everything from politics to animals to art. In 2013, he was nominated for the Turner Prize for his solo show David Shrigley: Brain Activity at the Hayward Gallery in London but his humorous aphorisms about the world are as comfortable in a gallery as they are on his social media accounts. A self-confessed rambler, David will be joining us at May's Nicer Tuesdays to tell us what's been keeping him busy during the lockdown. And we cannot wait.
Paula Scher
Paula Scher

is a designer who has helped shape the visual language of New York, creating work for iconic landmarks like the New York City Ballet, The High Line, the city's park signage system and The Public Theatre. Named Public Design Commission of the City of New York in 2006, she was the first female Pentagram partner when she joined the company in 1991 and has since appeared in Netflix's show Abstract: The Art of Design. In short, she's graphic design powerhouse and will be attempting to condense one of her many thorough projects into just ten minutes at this month's event.
Charlie Engman
For the past decade, New York City-based photographer

Charlie Engman

has been photographing his mum Kathleen and the culmination of their work was recently released in a mammoth retrospective of the project titled Mom. While the project began organically, because Kathleen was an available and willing model, it's involved into a fascinating collaboration which questions familial relationships and the power dynamics of photography. Charlie will be showing us a small selection of the images that made it into the book during Nicer Tuesdays, while explaining how the project has evolved over the years.
Haein Kim
Joining us from Sydney, Australia, which we are incredibly thankful and excited about, is illustrator and animator Haein Kim. A name you will recognise from

2019's Ones to Watch

, Haein's works are nothing short of hilarious. Often working in coloured pencil, she draws women with big lips, big eyes and even bigger hair, who are as bold as they are beautiful. Her animations, mostly produced in collaboration with Paul Rhodes under their moniker Bubble Brain rank up there among some of our favourites. If you haven't already seen it, go check out Peepin' to whet your appetite.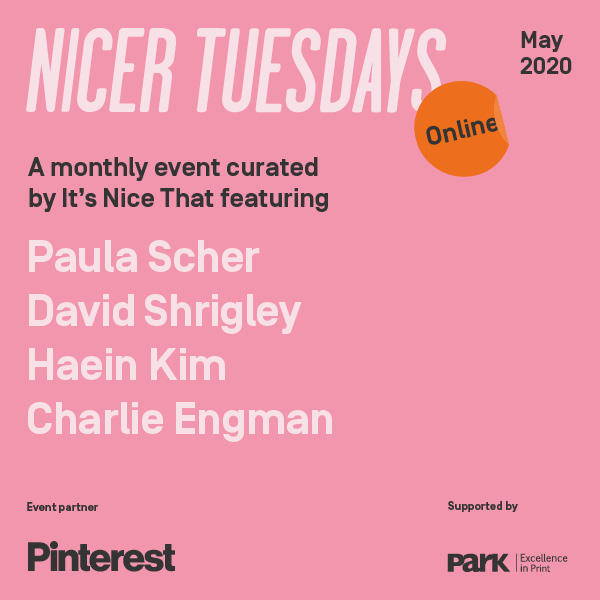 Timings for the evening: Zoom access from 6.00pm GMT and the talks will begin at 6.15pm.
A massive thanks to our event partner Pinterest and sponsor Park.
Terms and conditions: The programme may be subject to slight changes due to unforeseen speaker cancellations or illness. We will endeavour to find appropriate replacements.
Cancellation and Refund Policy: any cancellations and refund requests more than 7 days before the event will be granted. Any cancellations and refunds less than 7 days before the event will be on a case by case basis.
Any questions/issues please email: hello@nicertuesdays.com and we will get back within 24-48 hours.
Date and Time
Location
Refund Policy