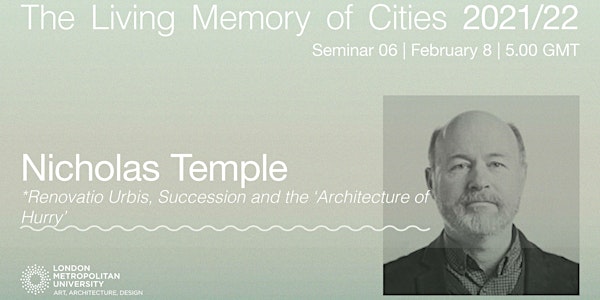 Nicholas Temple:Renovatio Urbis, Succession and the 'Architecture of Hurry'
Join us for The Living Memory of Cities, a seminar series convened in collaboration with Eric Parry Architects and CUBE.
About this event
Renovatio Urbis, Succession and the 'Architecture of Hurry'
Nicholas Temple
Tuesday 8 February, 5pm
In this paper I will explore the issue of temporality in renovatio urbis; how buildings and their urban contexts register continuity of time in the civic, religious, political and commercial lives of cities. The tradition of cities throughout history to commemorate their own 'renewal', through civic rituals, religious feasts and ceremonies, has been virtually erased in most contemporary cities where temporality is seemingly an endless continuum of development and technologically driven 'progress', denuded of reflective (commemorative) occasions. One of the symptoms of this one-way trajectory of time in urban life is the loss of purpose and erosion of the participatory dimensions of civic space. Beginning with Renaissance Rome, I trace the material manifestations of continuity and succession in city-making, from where I then consider the issue of the 'unfinished' in the contemporary city, as a cultural and architectural expression of a restored renovatio urbis.
~
Nicholas Temple is an architect and Senior Professor of Architectural History at London Metropolitan University and is Director of the Centre for Urban and Built Ecologies (CUBE). A graduate of the University of Cambridge, he previously served as Professor of Architecture and Director of the Centre for Urban Design, Architecture and Sustainability (CUDAS) at the University of Huddersfield, Head of the School of Architecture at the University of Lincoln and as an Assistant Professor of Architecture at the University of Pennsylvania. He was a Rome Scholar in Architecture at the British School at Rome, a Paul Mellon Rome Fellow and Bogliasco Fellow, and has collaborated on research projects on the history and theory of architecture and urbanism in Europe and China. He was shortlisted for the International CICA Bruno Zevi Book Award in 2014 for his book 'Renovatio Urbis: Architecture, Urbanism and Ceremony in the Rome of Julius II' (Routledge, 2011), and is currently chief editor of the Routledge Research in Architectural History Series and co-editor of the Journal of Architecture.
For internal use only: XX063 / XX055 / XX050 / XX051 / XX005 / XX081 / XX083