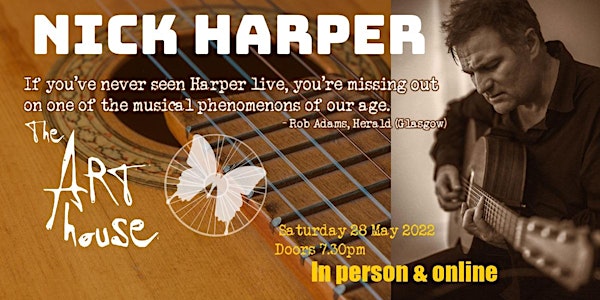 Nick Harper at The Art House Southampton (in person and online)
Event Information
Location
The Art House Southampton CIC
178 Above Bar Street
Southampton
SO14 7DW
United Kingdom
One of the finest guitarists of his generation
About this event
"One of the finest guitarists of his generation, his soaring vocal range and propensity for epic song place him somewhere between Rufus Wainright and Jeff Buckley."
— Mojo Magazine
To call Nick a superlative singer/songwriter could put his highly lauded guitar talent in the shade, and to call him a guitarist's guitarist might slight his distinctive, soulful voice and passionate songs. Not forgetting the wild ride that is one of his live shows - from personal introspection to biting political satire via a charmingly caustic wit that would make Groucho Marx proud. He often segues from his own compositions to well-loved covers he makes his own - he takes on Prince, Presley, Zappa, Jeff Buckley, Led Zeppelin, Monty Python and Public Enemy (yes, on an acoustic guitar). He also has the alarming ability to break guitar strings almost by sheer force of will… and then change them without dropping a beat. For over a decade, he has been dazzling audiences and reviewers alike with this heady mix of virtuosity, boyish charm, showmanship and sheer bravado. His talent and showmanship were recognised in 2003 with a (Glasgow) Herald Fringe Angel award for excellence in live music during his Edinburgh Festival run.
"If you've never seen Harper live, you're missing out on one of the musical phenomenons of our age." - Rob Adams
— Herald (Glasgow)
After 11 studio albums, 3 live CDs, 2 EPs (including Instrumental, a stunning display of his guitar talents) and a rockumentary style DVD 'Love is Music'. Nick's work is still as fresh and vital as that of his first solo release in 1994 but as evidenced by his highly personal 2020 album Phantastes, he still has time to sing about the most important things in his world - family, friends, love and life.
"If anything Nick Harper is the closest thing we've got to Lewis Carroll. His songs are the musical equivalent of Carroll's Looking Glass, peer through and you find a fantastical, magical world. Not always sugar sweet but forever different."
To get a reminder about this event and news of our other events, we invite you to join our mailing list here
Please do not come to this event if you have any symptoms of Covid-19, have a positive lateral flow test result, or if you have been asked to self-isolate by the NHS track & trace system. We will switch your ticket for an online one so that you can watch from home and arrange a partial refund less your online ticket donation amount with you if this happens, just drop us an email in advance of the event.
Online tickets are by donation - click the ticket link & type in your ticket amount to choose what to pay. We do suggest an amount, but appreciate anything you are able to contribute.
This event will be live streamed on YouTube, you can buy an online ticket via the link above, pay what you can, if you wish to join us from home. Patreon supporters will receive this link via a Patreons-only post half an hour before the event starts, and as a link in the private Facebook group just before we go live.
We are keeping our audiences small whilst Covid continues to be a risk. To ensure you have a space, please book in advance.
The cafe will be serving drinks and snacks, your order will be taken once you are seated to avoid queues. Card payment is preferred.
To see what measures we are taking to keep our space Covid safe, click here
We ask that you:
Arrive on time - doors open 30 minutes before the event. Once the event has started we will not admit latecomers until there is a suitable break.
Not to come to this event if you have any symptoms of Covid-19, or you or somebody you live with are waiting on test results, or if you have been asked to self-isolate by the NHS track & trace system.
Artists are taking a test to protect you. Staff are taking a test to protect you. Be part of the live music community: #takeatest before you attend a show - free lateral flow tests are available online.
We ask that all attendees wear a face covering when moving around the space and at any other time that they feel able to.

Date and time
Location
The Art House Southampton CIC
178 Above Bar Street
Southampton
SO14 7DW
United Kingdom
Refund policy