Description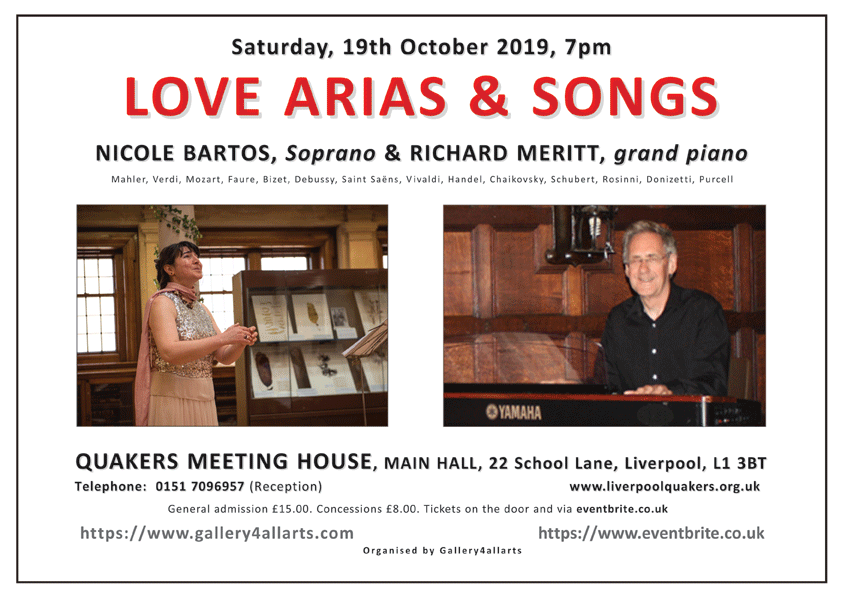 A mesmerising rendition of love arias and songs beautifully sung by Nicole Bartos, Soprano and accompanied by Richard Meritt on grand piano. Sung in Italian, French, English, Russian, Chech, German:
Mahler (from Ruckert Lieder), Verdi (Il Trovatore), Mozart (Le Nozze di Figaro), Faure, Bizet, Debussy, Saint Saëns (Mon Couer s'ouvre a ta voix), Vivaldi (Un certo non so che), Handel, Chaikovsky (Denji li tzarit), Dvorak, Schubert, Rosinni (William Tell), Donizetti (L'Elixir D'amore), Purcell (The Fairy Queen).

For any issues related to the venue location and access, contact Quakers Meeting House Reception on:
0151 709 6957.
Drinks served during main interval.
NB. Please, note: concert takes place in the main hall, 1st floor therefore please, make prior enquiries and arrangements with reception if wheelchair access necessary.
Children must be accompanied by adults.

Many thanks.
Evening Programme (not in final order)
Vivaldi – Un certo non so che (One thing I'm sure not)
Handel- Lascia ch'io pianga (Let me weep) (Rinaldo)
Purcell – I attempt from love's sickness to fly away (The Indian Queen)
Debussy - Beau Soir (Beautiful Night)
Poulenc - Piano solo , Richard Meritt
Faure - Apres un Rêve (After a dream)
Mozart - Porgi amor, qualche ristoro (Oh, love give me some remedy) (Le Nozze di Figaro), the Countess's aria
Verdi - Taccea la notte placida, (Il Trovatore) (The Troubadour)(The serene night was silent ) Leonora's aria
Saint Saëns – Mon couer s'ouvre a ta voix (My heart at Thy dear voice) (Samson and Dalila)
Cesti - Intorno al idol mio (Caressing my idol's pillow), aria ('Orontea')

Bizet –Habanera / "L'amour est un oiseau rebelle", (Love is a fickle bird), Carmen's aria ('Carmen')
Rossini - Selva opaca (Dark Forest)(William Tell)
Verdi – Timordi me?.. Sicura/ D'amor sull'ali rosee (Afraid of me? Sure / On the rosy wings of love). Leonora's aria (Il trovatore)
Edward Grieg - I love thee
Mendelssohn - Song without words – Piano solo, Richard Meritt
Donizetti - Prendi per me sei libero (Take it, because of me you are free) (L'elisir d'amore)
Mahler - Liebst du um Schönheit (If you love for beauty) (from Rückert Lieder)
Dvorak - Kdiz mnje matka stara (Songs my Mother taught me)
Chaikovsky - Denji li tzarit (When the day dawns)
Schubert - Ave Maria
_____________________________________________________________________________________________
Nicole Bartos performs also in the forthcoming Charity Fundraising Recital on 24th of November 2019, in Heswall at The Quakers Meeting House. Hope you can join us there. Many thanks!
Organiser of NICOLE BARTOS, Soprano - LOVE ARIAS & SONGS
Liverpool based Gallery4allarts presents and organises art exhibitions, art, music and wellbeing tuition activities; music events (classical music and opera recitals)and various other cultural events.

Gallery4allarts website is temporarily undergoing refurbishment and is disconnected until further notice.