Description
Nicole Bartos, Soprano - accompanied by Richard Meritt, on keyboard - sings 'Love Arias and Songs I', on Friday, 12th July 2019, 7.30pm at the Ullet Road Unitarian Church Hall, Liverpool. Please note: entry at the rear via York Avenue,
An evening featuring selections of arias and songs from Italian, French, German and Slavonic composers such as: Rachmaninov, Chailkovsky, Dvorak, Gluck, Torelli, Pergolesi, Puccini, Handel, Schubert, Vivaldi, etc. , next to piano solos such as Mendelson, Brahms, Debussy, Sostakovich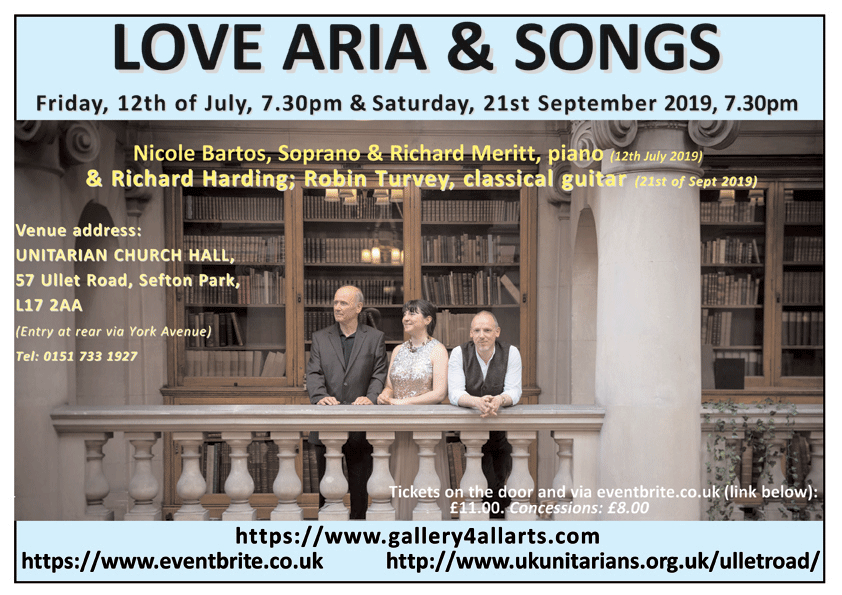 _________________________________________________________________
Evening Programme. Starts. 7.30pm
GALLERY4ALLARTS www.gallery4allarts.com
Concert Programme 12thJuly 2019, 7.30pm
"LOVE ARIAS & SONGS"
Nicole Bartos, Soprano & Richard Merritt, piano
Venue: Unitarian Church Hall, Liverpool L17 2AA
Part 1 - 7.30pm Start – Welcome Introduction
1. Gluck, O del mio dolce ardor, (O Thou beloved) aria from Paride ed Elena
2. Pergolesi, Se tu m'ami (If thou lov'st me)
3. Vivaldi, Spoza son disprezzata (I am a scorned wife)
4. Mendelssohn Gondolier's Songfrom Songs Without Words Op 19 No 6
5. Puccini, O mio babbino caro, Gianni Schichi, (O my dear father) Lauretta's aria
6. Giuseppe Torelli, Tu lo sai (You now know)
7. Puccini, Quando m'en vo, (When I go) La Boheme,Muzetta's aria
8. Brahms, Waltz Op 39 No 15
9. Handel, Tornami a vagheggiar, (Return to me to languish) from Alcina
Interval 20 min
PART 2

10. Verdi, Taccea la notte placida, (The peaceful night lay silent) from Il Trovatore
11. Shostakovitch, No 1 of Three Fantastic Dances
12. Tchaikovsky, Stredj shumnovo bala (Amid the din of the ball)
13. Rachmaninov, Zdesj horosho/ (How fair this spot)
14. Tchaikovsky, Otchevo (Why?)
15. Dvorak, Song to the Moon, Ruszalka's aria from Ruszalka
16. Debussy, La fille aux cheveux de lin(The girl with flaxen hair) from Preludes Book 1
17. Faure, Apres une reve (After a dream)
18. Schubert, Ave Maria
19. Extra: Bizet, Habanera, from Carmen

Programme ends 9.20pm.
PLEASE, NOTE:
FORTHCOMING CONCERTS:
Saturday, 21st September 2019, 7.30pm @ Unitarian Church Hall, 57 Ullet Road, Liverpool, L17 2AA
(Nicole Bartos, soprano & Robin Turvey, Richard Harding, guitar);
Saturday, 19th October 2019, 7pm@ Quakers Meeting House, 22 School Lane, Liverpool, L1 3BT
(Nicole Bartos, soprano & Richard Meritt, piano)