Description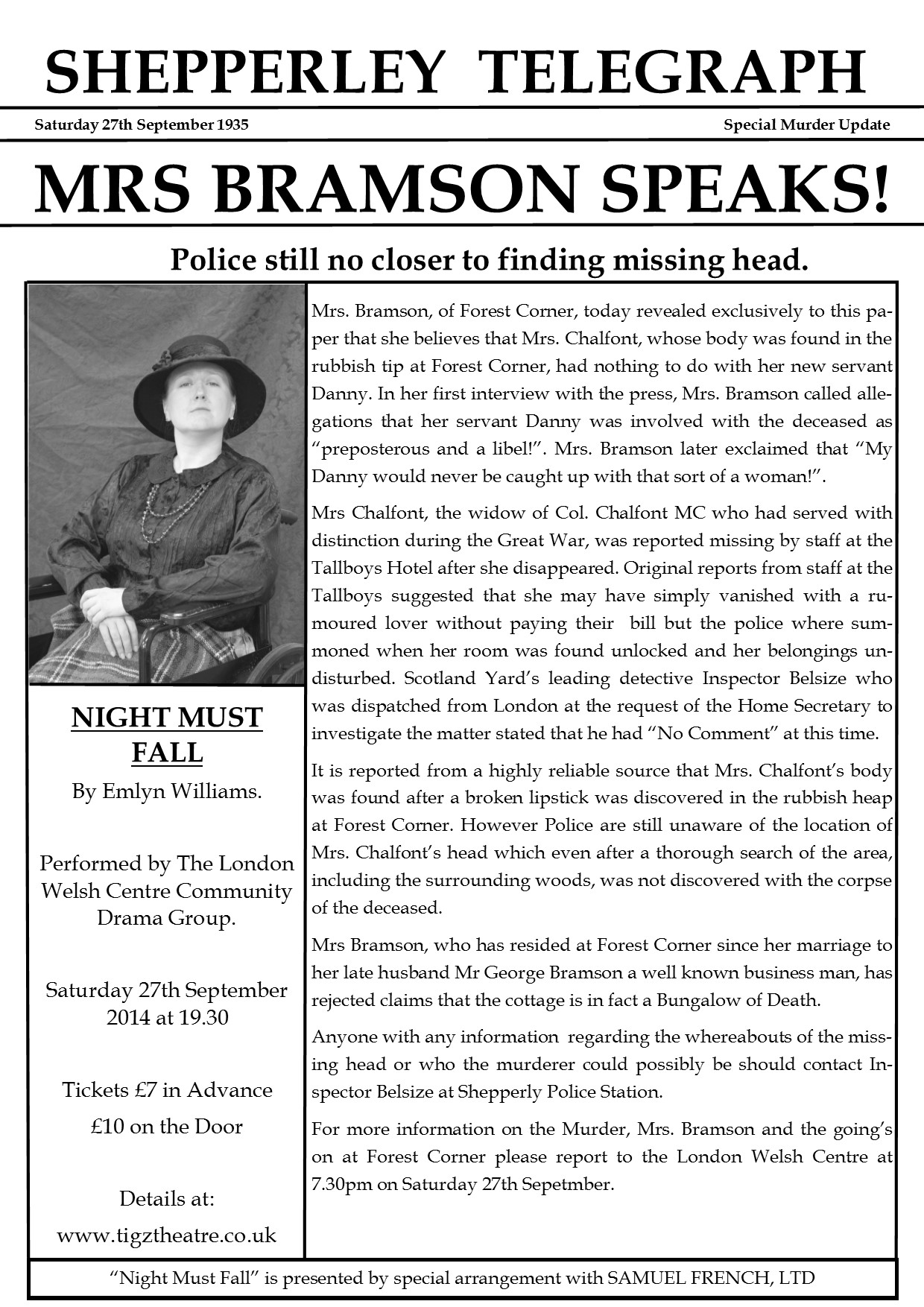 Night Must Fall is a psychological thriller written by Emlyn Williams which was first performed in 1935. This thrilling drama tells the story of Mrs Bramson a bitter, spiteful woman who lives with her niece Olivia and two servants Dora and Mrs Terrance, all of whom despise her.
When Dora the maid reveals she is pregnant Mrs Bramson demands to meet the father Danny, a smooth talking charming Welshman who quickly ingratiates his way into Mrs Bramson's life. When the blonde bombshell Mrs Chalfont is discovered murdered and headless in the rubbish pit Olivia grows suspicious of Danny and all his charm.
Performed by the London Welsh Centre's Community Drama group in association with Tigz Theatre this production follow on from last year's outstanding performance of "Under Milk Wood".
Cast
Lord Chief Justice – Martin Mills
Mrs. Bramson – Joanna Foster
Olivia Grayne - Bethan Hughes
Hubert Laurie – Jay Solomon
Nurse Libby – Lillian Gergely
Mrs. Terence – Ann Green
Dora Parkoe – Lowri Jones
Inspector Belsize – James Richards
Dan – Rob Davies
Crew
Director – David Evans
Technical – Jamie Robinson-Burt
Operations Manager – Mathew Robinson-Burt
Costume – Luke Fernandez
Organiser of Night Must Fall
Tigz Theatre is the resident theatre company of the London Welsh Centre on Grey's Inn Road. Their productions include the sell out Welsh tour of "Tea with Mamgu" and the hugely successful "Under Milk Wood"
During the last two weeks of August they will be running the London Welsh Centre's bar as part of the 2014 Camden Fringe.
For more information please visit www.tigztheatre.co.uk or http://www.camdenfringe.com