Event Information
Refund policy
Contact the organiser to request a refund.
Eventbrite's fee is nonrefundable.
The Anglo-Colombian Society invites you to a talk by author Oscar Guardiola-Rivera, reflecting on his latest book 'Night of the World'
About this event
About the event:
Professor Oscar Guardiola- Rivera will be talking about his latest book, 'Night of the World', the first in a trilogy.
His talk will be structured around a 35 minute conversation with The87 Press founding editor Azad Ashim Sharma followed by a Q&A session.
For a more participative and engaging experience, we would recommend reading the book in advance. The publishers have kindly offered the promo code ACSOGR40 with a 40% discount to those interested in this event.
To purchase click on this link: https://www.the87press.co.uk/shop/p/oscar-guardiola-rivera-night-of-the-world-book-one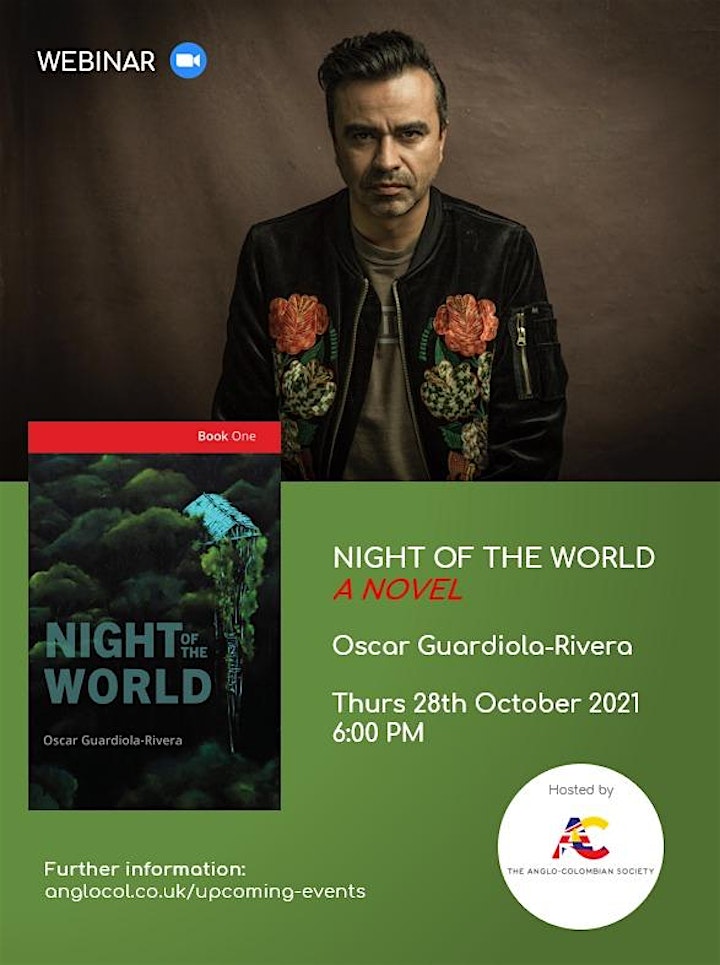 About the book:
"This exhilarating narrative prose-poem, situated in a dystopian future, is a quest to find out what is distinctive about humankind, a poetic and vigorous praise of reading, knowledge and art as the only way to survive. Night of the World makes indeed a beautiful, powerful and meaningful reading that stays with you for a long time."
- Cristina Fuentes La Roche OBE, Hay Literary Festival International director
"As riveting as a warning, as breakneck as a sucker punch, Night of the World packs the promethean panache of A Clockwork Orange with the unsettling prescience of 1984. Simultaneously metaphorical and literally dead-on, Oscar Guardiola-Rivera's breathless incantation, grabs you by the collar and forces you to ask: What the hell? Why does all this seem plausible? And does the terror come from its telling of such unsettling possibilities, or because it tells me that I must do whatever possible – quickly, now – to prevent such a night from swallowing our world? Don't read this and weep; read this and act."
- Miguel Syjuco, Man Asian Prize-winning author of Illustrado (Picador, 2010)
--------------------------------------------
About the speakers:
Oscar Guardiola-Rivera is a Colombian-born author and professor of Political Philosophy and Human Rights at Birkbeck College, University of London. He is a Fellow of the Royal Society for the Advancement of Arts, and a member of the Board of Governors of Ruskin College, Oxford.
He has published over a hundred articles on philosophy, literature, human rights, law, political economy, and globalisation. Award-winning author of ' What If Latin America Ruled the World' (Bloomsbury, 2010/RBA, 2012), and most recently of the poetic novel 'Night of the World' (The87 Press, 2020), 'How to Build Societies' (Editorial Javeriana, 2015) and 'A Defense of Art/Armed Struggle, 'On Art & Rights' (Editorial UTadeo, 2019)", co-author of 'Decolonizing Ethics and 'The Critical Theory of Enrique Dussel', (University of Pennsylvania Press, 2021).
He was the curator of the Global Art Forum in Dubai in 2017 and since 2015 he has curated the yearly 'Focus on the Funk' gathering between some of the most important thinkers, artists and activists interested in issues of social and racial justice today.
His initial commission piece for the UK's Royal Literary Fund, entitled 'Kingdom Fallen, Kingdom Risen' is available on the Writers Mosaic website. He is a columnist for the Colombian newspaper "El Espectador" and a frequent contributor to international media outlets such as The Guardian, BBC, Monocle, France News, The Independent, DaakBangla and Al Jazeera, among others.
https://www.bbk.ac.uk/our-staff/profile/8005393/oscar-guardiola-rivera#overview
------------------------------------------
Azad Ashim Sharma is the director of the87press. His work includes 'Against the Frame '(Barque Press, 2017) and the forthcoming collections of poetry and prose 'Ergastulum' (Broken Sleep Books, 2022) and 'Boiled Owls'(Nightboat Books, 2023). His poems have been published recently by Stand Magazine, the Asian American Writers Workshop and Gutter Magazine. His prose has been published by SPAMzine, MIR Online, Magma Magazine and is forthcoming in the Bloomsbury Companion to Contemporary Poetry in Ireland and the UK. Azad is currently a PhD Candidate in English and Humanities at Birkbeck College, University of London and is producing a novel and a book of critical theory.
---------------------------------------------------
The Anglo Colombian Society (ACS) is a not for profit, non-political organisation which seeks to improve knowledge of Colombia in the United Kingdom and to foster ongoing friendships between British and Colombian people.
The ACS provides a meeting point for our members through a variety of cultural, social and academic events and fiestas. We are currently hosting our events via Zoom meetings and webinars due to the ongoing restrictions.
We welcome new members and our annual subscription entitles them to free entry to all our events.For further information on the Anglo-Colombian Society and membership details please visit: http://anglocol.co.uk/ and http://anglocol.co.uk/join-the-society/
Follow us on our social media platforms: https://www.facebook.com/AngloColombianSociety https://www.instagram.com/anglocolombiansociety/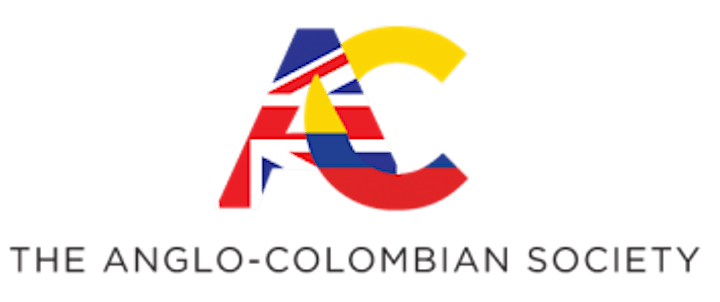 Date and time
Location
Refund policy
Contact the organiser to request a refund.
Eventbrite's fee is nonrefundable.