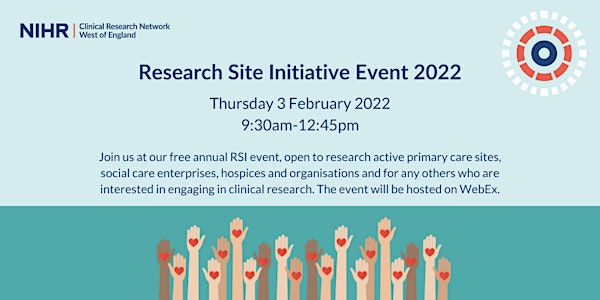 NIHR Clinical Research Network West of England RSI Event 2022
NIHR Clinical Research Network West of England - Research Site Initiative (RSI) Event 2022
About this event
Join us at our free annual Research Site Initiative (RSI) event, where we will be discussing clinical research in primary and social care settings in the West of England, as well as RSI funding for 2022/23. There will also be an interactive Q&A session with a panel of GP Champions and the CRN Team.
Following another challenging year, this event looks at opportunities for continuing and growing research going forward, and how this will support us to meet the new national strategy objectives.
This event is open to all research active primary care sites, social care enterprises, hospices and organisations and for any others who are interested in engaging in clinical research.
This event will be hosted on WebEx. Please email we.reach@nihr.ac.uk with any questions.