Description
NIHR RDS SE: Looking ahead (2018 - 2023)
The NIHR Research Design Service South East is hosting a half day event to launch our new contract which starts in October 2018. The afternoon will consist of a mixture of strategic discussions, talks from eminent speakers in health & social care research and interactive workshops.
We invite you to join us as we set out what will be different under the new contract, and for you to engage with our plans over the next 5 years to support and grow research activity across the region.
This event aims to create opportunities for budding and/or experienced researchers in medical/health, social care and public health to develop research ideas and strategic plans with the RDS SE team.
This is also a great opportunity to network with other research and support colleagues in the region.
Outline programme: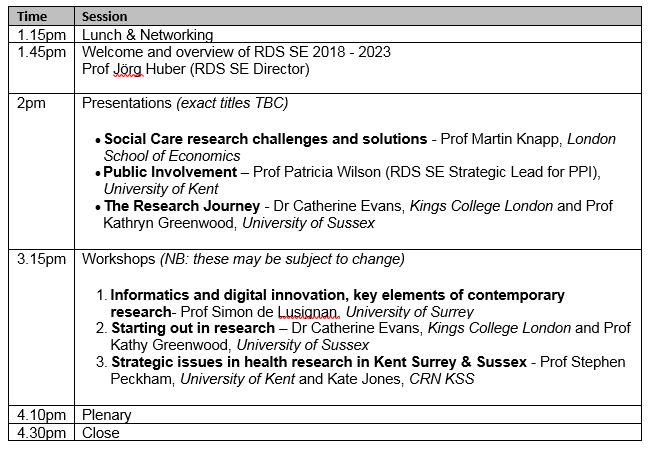 Please note: There are limited places and we are expecting this event to be popular. Therefore, please let us know as soon as possible if you are no longer able to attend as we pay per head and a waiting list system is likely to be in place.