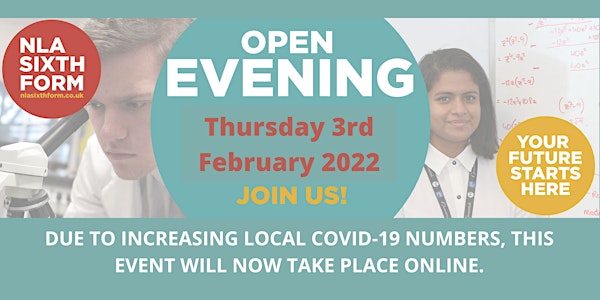 NLA Sixth Form Open Evening
Join us for the North Liverpool Academy 6th Form Open Evening to find out all you need to know about studying with us
About this event
We are so excited to invite you in to join us at our Sixth Form Open Evening.
This is a fantastic opportunity to meet with the team from North Liverpool Academy, explore our world-class facilities, meet your future teachers and friends, learn more about our amazing results and destinations. Don't miss out on this life changing experience.
On the night:
You will receive a link to join the presentation online. Mr Bennett, Head of Sixth Form, will introduce the North Liverpool Sixth Form to you on zoom and invite you to ask any questions. The presentation will start promptly at 5pm so please do be online ready. Following Mr Bennett's session, you will be invited to join us in the building at a later date. This will give you time to explore the Sixth Form area, the chance to meet with subject teachers to discuss your options. You will be able to chat to current students about their experiences with us and have a look around our learning spaces and sixth form areas.
Why choose us?
North Liverpool Academy Sixth Form offers life changing opportunities for students. We have pathways for a broad range of career opportunities, from science to sport. We offer a full range of Level 3 qualifications, including A Level Further Maths, Computer Science, Psychology, Performing Arts, Business and much more.
Find out why studying at North Liverpool Academy Sixth Form is the right choice for you:
• we promise students who complete their programmes successfully a university place, job or apprenticeship at the end of their studies.
• explore our state-of-the-art facilities and the university-standard equipment you'll be using
• find out more about the sought-after subjects you can study and the opportunities you'll have
• hear about our strong results and incredible student destinations, including University of Oxford, Imperial College London and the University of Liverpool.
• our Head of Sixth Form, Mr Bennett, and our support team will be available to answer your questions
• chat with teachers and current learners about what it's like to study with us
Your future starts here.
Sign up on Eventbrite and we'll see you there!