Description
What is NLP [Natural Language Processing]
NLP analysis offers the ability to derive meaning from both written and verbal communication. Reliable analysis of the ever-increasing amount of textual data leads to more accurate insights into human behavior, especially when combined with other structured data. Many companies use NLP technology to improve the success of sales calls. Health care professionals use it to diagnose symptoms quicker and provide better treatment. Others use it to improve their customer service through an understanding of what their customers like or dislike.
---


Description of the event
There is a huge increase in the volume of unstructured data, especially with the emergence of platforms that mainly rely on user-generated content. Text data that contains valuable information about users and their opinions has become widely available. The digital revolution has underlined email as our main form of communication and things such as newspaper articles, medical records or surveys are being stored as digital files. All of these present a great and unique source of information, impossible to uncover without a specific skill set and technology.
Without text analytics, businesses are missing out on this unique source of information. We have therefore joined the forces with Geneea, experts in this field, to introduce you to Natural Language Processing (NLP) and show you how to use the methodology in your day-to-day business to solve industry specific problems.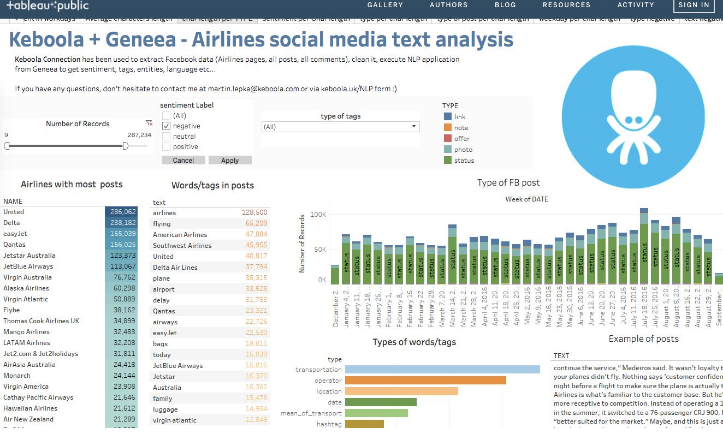 ---
Programme
The first 2-hour long introduction session will be aimed at mid to senior level people, who want to understand how to make the most out of their unstructured data. The second part, on the other hand, will be an advanced hands-on workshop where we'll introduce various NLP techniques. You will create several fully functional NLP pipelines including the visualization of results.


I. Introduction to NLP (9:00-11:00)
8:45- 9:00- registration
9:00- 10:30 introduction to NLP
10:30-11:00 questions/ networking
Attendee profile / expected experiences:
Mid to senior level people wanting to understand how to make the most out of their unstructured data

No technical experience needed
---


II. NLP Advanced workshop (13:00- 17:00)

13:00 Registration

13:15 Hands-on Text Analytics

What and Why: General overview and user cases

Approaches and Problems

Command line

Introduction to Machine learning

How: Selected NLP problems

NLP & BI: Facebook, KBC, Geneea & Tableau

17:00 End of workshop/ Networking


Attendee profile / expected experiences:
Data Analysts, Developers, Architects, Data Insights people

Basic knowledge of SQL

Basic knowledge of any programming language (we will be using python, but any knowledge of Java, C, R, PHP, javascript, …, should be enough)

Basic experience with working with data


Taking with you:
Your own laptop

Pre-installed Tableau (free trial is OK)

Google Docs account (we will analyze data in Google sheets)

Pre-installed Anaconda for Python 3 (come early, if you do not manage to do this)

Pre-installed cmder.net (Windows, not needed on Mac or Linux)