NLP in The Wild: A Morning at The British Museum

Friday, June 13, 2014 from 9:45 AM to 1:15 PM (BST)
Event Details
" I have loved the British Museum since childhood and visit at least once a year. I'm constantly
amazed and deeply moved by the richness and mystery of world history and culture that is
displayed there. It's a place to expand your mind and deepen your sense of the human potential to
create and recreate our worlds." Judith Lowe
This innovative 1/2 day programme is part of a new series of masterclasses in 2014, aimed at inspiring and developing NLP Trainers, Masters and Practitioners to further develop and expand their skills and knowledge.
Join Judith Lowe on this unique 'away day' at the British Museum, specially designed to expand
and enrich your NLP.
We will be exploring together, in the amazing, beautiful galleries and displays of the museum -
with group discussions and observational, experiential discovery activities using specific NLP
approaches and tools.
We will focus on 3 main topics;
- Maps and territory; the art of categorisation - deletion, distortion, generalisation
- Looking through NLP eyes; meta programmes, submodalities and beliefs in culture
- Symbolic thought and the Unconscious; cultural, historical artefacts as inspiration and healing
The British Museum is one of the worlds most educational and inspirational museums. It's the
essential cultural, historical collection for many top artists, designers, philosophers, historians and
teachers to inspire and widen their professional practice.
Freud and many other key psychologists and healers have been intrigued and touched by objects
from the past which resonated for them. Bateson, one of NLPs original models and mentors, was
fascinated by art and artistry in different cultures.
In this rich environment, packed with the treasures of world history we can engage with multiple
forms of thought, representation and communication.
Come and develop your mental flexibility, challenge your visual acuity, discover your own deep
cultural biases and assumptions by contrast with others ... and much, much more, with a friendly,
small group of NLPers, led by one of NLPs most innovative and exciting teachers.
In order to get the most out of the day it is advisable that you have some NLP (pracititoner level) expereince, if you are unsure please email to ask. 
Times: Meet 9.45am on the Steps of the Museum
           Coffee in the Great Hall at 10.00am
           Seminar will run 10.15am-1.15pm
           Judith will be staying on to have lunch with those who want (optional)
NB: The course fee does not include refeshments or a contribution to the Museum (suggested minimum £5/per person)
We Look forward to Seeeing you there,
Judith and Jonathan
PS.
To inspire you we thought we would leave you with Judith's selfie she took while on her last visit!
"The Godess and Minerva"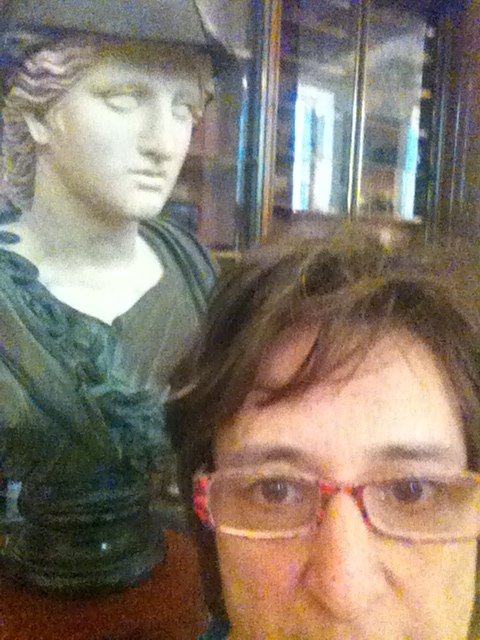 When & Where

The British Museum
Great Russell St
WC1B 3DG London
United Kingdom


Friday, June 13, 2014 from 9:45 AM to 1:15 PM (BST)
Add to my calendar
Organizer
Judith Lowe is one of the UK's most experienced and popular NLP trainers and is the Managing Director of PPD Learning, one of the world's leading Neuro Linguistic Programming (NLP) Training Institutes. 
She has worked for many years with clients from many professional backgrounds, in public and private sectors, in-house and on public programmes, at every level of NLP, providing innovative, in-depth, skills-based NLP training and coaching.
She is known for her warmth, her wit and her wide reading as well as her overall dedication to giving her students and clients the very best of advanced, systemic NLP.
She is on the board of ANLP, a founder member of the NLP Guild and a founder member of the UK NLP Leadership Project. 
PPD Learning has twenty five years of expertise in Neuro Linguistic Programming training, with an international reputation for high standards, innovation and integrity.
Our NLP training programmes are lively, practical and transformational - and include individual coaching and support - the very best of NLP to help you develop your career, your personal skills, meet challenges and find fulfillment.
At PPD Learning we have dedicated ourselves to innovation, creativity, mastery, artistry, community and modelling - and skills 'in the muscle'.
Our reputation for quality and integrity is known throughout the NLP world, and our organisational culture promotes inclusion, respect, fun and friendship.
Our NLP mentors and inspiration from the States have primarily been Dr. John Grinder, Robert Dilts, Judy DeLozier, Charles Faulkner, Dr. Christina Hall, David Gordon and Stephen Gilligan and our team from UK has included the late David Gaster, Julian Russell and Joseph O'Connor