NLSF 2019 Special Screening: Generation Revolution
Description
The North London Story Festival is proud to present this special screening of Generation Revolution which will be followed by a Q&A with the filmmakers.

Generation Revolution (2016) is a feature-length documentary film that brings to screen the powerful story of London's new generation of black and brown activists who are changing the social and political landscape in the capital and beyond.
The London Black Revolutionaries, or 'Black Revs', have a predilection for dramatic, raucous, direct action. R Movement challenge the idea of the 'Staid and Serious' political activist and The Black Dissidents are a new organisation intent on furthering the fight against oppression along the lines of race, class and gender.
The film vividly chronicles the evolution of our characters as they experience personal and political awakenings, breakthroughs and, at times, disillusionment. Generation Revolution offers a unique and original glimpse into the rewarding but difficult path that must be trodden in the struggle for personal, social and political liberation.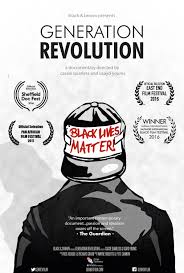 About the Speakers
Usayd Younis (Co-Director) is a radical filmmaker and digital editor for Ceasefire Magazine. His first documentary 'The Two Worlds' addresses the topic of inequality in post-apartheid South Africa. Usayd has facilitated workshops on Arts & Activism for Platform / Shake! and has a passion for social justice.
Cassie Quarless (Co-Director) is a producer/director with a background in comedy and documentary shorts, having produced short-form content for The Wagon, Futurelearn & UCL, amongst others. He has studied Digital Anthropology at UCL and has a strong interest in the imagining of and potential for radical futures.
Nse Asuquo (Editor) is an experienced editor who's portfolio includes The Stuart Project, The Unfinished Conversation and Martin Luther King & The March On Washington for John Akomfrah. Her work has been nominated at the Sundance Film Festival in Best Editing, Audience Award & Grand Jury Prize World Cinema Documentary categories as well as for the BAFTA Television Awards.