Description
How networking like an introvert can transform your measurable results and how networking like an extrovert will turn your network into a community.
A half-day workshop with Dinah Liversidge, Mind-set Coach and Mentor, International Speaker and Trainer.
How long have you been 'effectively networking' and yet still you feel like you're not getting the results for your business that everyone else talks about? All the one-to-one sessions, follow-ups and business connections later, you're left wondering whether to join a different network of just try social media instead. This workshop is going to change that.
In three hours, we'll explore the key skills and attributes that introverts and extroverts bring to networking and how we can learn from their very different skills and approaches.
In her family business, both the introverts and the extroverts have joined and been active members of networking organisations, both locally and internationally. They've all had excellent results, using very different approaches to networking.
Fascinated by the different ways they networked and the different results they achieved, Dinah has created this unique workshop to help you learn from their experiences, challenges and results.
What we'll cover:
How to network like an introvert – key skills, follow ups and promoting others.
How to network like an extrovert – key skills, collaborations and growing your community.
At the end of the workshop, we'll have an informal lunch where you'll have the opportunity to network and put what you've learned to the test.
Cost:
Half-Day workshop including lunch £75.00
Book by 1st July for the Early Bird price of £49.00
Special 'FIRST TEN' Early Bird Bonus.
If you are one of the First Ten people to book your place at No-Box Networking you will receive a FREE copy of the Ten Year Breakfast by David Wimblett.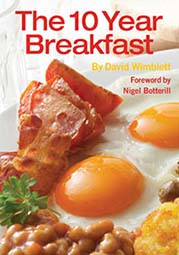 The 10 Year Breakfast is about business: it will inspire you, change the way you think and help you build a better business.
This is a workshop that you will want to put in your diary now!
About Dinah:
There never was a box. I help people to make significant change, with positive mind-set coaching and mentoring. I write and deliver training on No-box-thinking and how this mind-set can impact business and personal growth.
What people are saying about Dinah:
"Totally genuine, selfless, caring and somebody who does actually listen - a rare skill in this modern age. Dinah is engaging, eloquent and fun. Time spent with here either on a one to one or when listening in an audience will leave you feeling uplifted, motivated and with a clear sense of purpose and direction. Respect!"