An online workshop in no-code programming and hardware building. Hands-on experience with building instrumentation for biology.
About this event
NOTE: Priority will be given to members of our partner organisations (see below), and free kits can only be provided within the UK. International participants are welcome, but will have to provide their own Grove boards (see below). If you have any questions about participation, please contact coordinator@engbio.cam.ac.uk.
This course is ideal for biologists or other scientists with little formal experience of programming. The workshop is designed to introduce you to Arduino-based microcontrollers, sensor electronics, displays and actuators that are useful for measuring and controlling biological systems - and provide the no-code programming tools that can be used to build integrated bioinstrument prototypes.
Participants will learn to build simple computing devices for biological applications, using an Arduino microcontroller, XOD visual programming tools and a range of useful electronic devices.
The workshop will be held in two sessions:
Session 1: Monday 27th June 17:30-19:00
Session 2: Friday 1st July 17:30-19:00
We ask that participants attend both sessions, in order to cover the full content of the course.
Please register by 9th June to ensure that we can deliver your Biomaker kit in time for the workshop.
More information about the programme can be found on the Biomaker website.
------------------------------------------------------------
Why Learn 'Biomaking'?
Training in the use of these new tools will allow participants to build a wide range of instruments and devices that are potentially useful for experiments in the lab and field. These new skills can be enabling in many ways. The components for this type of instrumentation are often very cheap, especially when compared with off- the-shelf commercial solutions. The use of simple hardware and software resources allow easy modification, extension and repair of custom instruments. The use of open-source components and systems promotes sharing of information and set up of collaborative projects, which creates a growing set of resources for the community to draw from.
Participants will also have the opportunity to continue their Biomaker training, where they can receive support to develop a chosen project. Examples of previous Biomaker projects can be found here, with applications including instrumentation, microscopy, microfluidics, 3D printing, biomedical devices, DNA design, plant sciences and outreach and public engagement.
------------------------------------------------------------
What is No-Code Programming?
Unlike traditional text-based programming, no-code programming uses a visual interface to let you write, edit and upload programmes.
In our no-code workshops we will be using the visual programming language XOD.
Watch the video below to find out more about No-Code Programming for Biology
------------------------------------------------------------
The Biomaker Beginner's Kit
Participants registering by 9th June will receive a Biomaker beginner's kit, based on the Grove All-In-One Beginner's Kit for Arduino.
For international participants or those registering after 9th June, Grove kits are available for around £20/$25, and a list of local distributors is available here.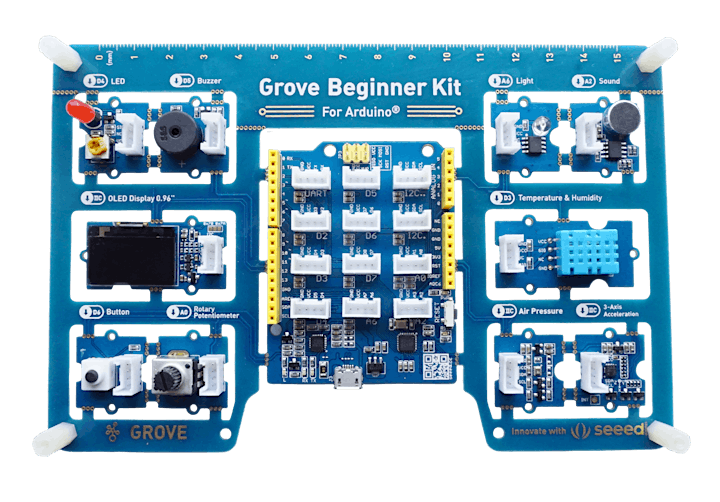 This kit contains an Arduino-based microcontroller, and several useful electronic components, such lights, buzzers, buttons, a screen and a range of environmental sensors. All components are combined into one small, simple board, so no electronic work or wiring is required.
In the two workshop sessions we will show you how to get started with using this board to build environmental sensors.
More information about the workshop schedule is available on the Biomaker website.
Participants will also have the chance to receive an expansion kit, additional training materials, and to have a project funded as part of the Biomaker Challenge.
------------------------------------------------------------
Contacts
For more information please set the Biomaker website or contact:
Stephanie Norwood: coordinator@engbio.cam.ac.uk
Jim Haseloff: jh295@cam.ac.uk
------------------------------------------------------------
Hosts
Partners
University of Cambridge
John Innes Centre
Earlham Institute
NERC-NSF Signals in the Soil Programme
Sponsors