Celebrating the women who promoted women's football at a time when the FA tried to quash their involvement & a look at the present & future.
About this event
"No Man Could Stop Us!" Pioneering Women defy Football Ban.
FA Ban Women's Football from Monday 5th December 1921.
One hundred years ago women's football was growing rapidly and proving to be hugely popular across the world. Women in the UK were playing the sport in major venues across the country with huge crowds in attendance. Then in December 1921 the Football Association banned women from playing football on FA affiliated grounds; in effect they tried to suppress female participation.
Despite the ban women found a way to continue playing football and prominent teams, such as Manchester Corinthians and Dick, Kerr Ladies, kept the game alive for the next fifty years, challenging the FA's authority until, in 1971, the ban was finally lifted.
To commemorate the centenary of the FA ban, Hebden Bridge Town Hall are holding an event on the evening of Friday 3rd December, which will be hosted by local residents and friends, Dr Gary James and Geoff Matthews.
Dr Gary James will be joined by Margaret Whitworth & Margaret Shepherd, who were prominent members of the Manchester Corinthians team that played during the ban in the 1950s, 60s & 70s. We also hope to hear from other local players, as we take a closer look at the challenges and opportunities for girls and women who want to play association football today.
This free event promises to be a celebration of the activities of those women who promoted female participation at a time when the footballing authorities tried to quash their involvement.
There will also be opportunities to ask questions or just give an opinion in an open mic session towards the end of the evening.
Dr Gary James is a well-renowned football historian who has written many books on the subject and, in particular, his first love Manchester City. He is also an Honorary Research Fellow at De Montfort University.
Geoff Matthews is a former amateur football player and manager and now a businessman in Hebden Bridge, whose company, Cansquared Ltd, is sponsoring the event. Oh, he also collects Subbuteo!
--------------------------------------------------------------------------
The event will be held at Hebden Bridge Town Hall on Friday 3rd December 2021 from 7pm to 9pm. There is no entry fee but you must register for tickets on Eventbrite. Tickets are not available by any other method or means.
In order to make the venue as Covid safe as possible, spaces will be limited so please book your ticket(s) as soon as possible if you'd like to attend.
Venue: Waterfront Hall, Hebden Bridge Town Hall, St George's Street, Hebden Bridge, HX7 7BY - click here for information on how to get here.
Refreshments: The bar will be open from 6.30pm and at half-time for the sale of hot and cold drinks and snacks.
Contact the organiser: info@cansquared.co.uk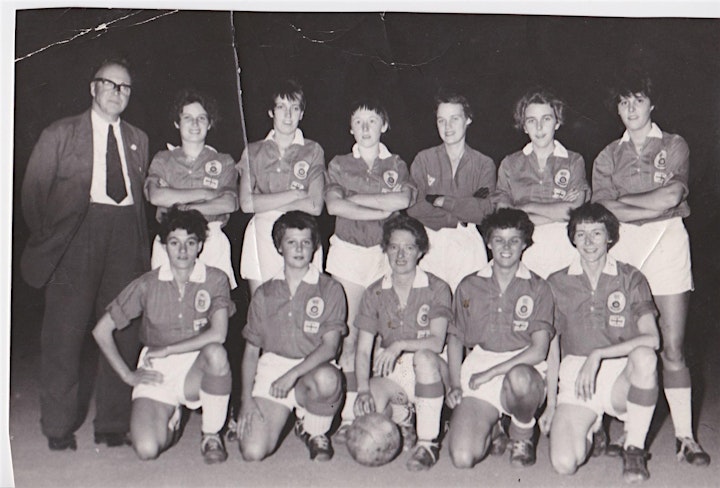 Image: Margaret Whitworth, Arruba South America tour