Description
Join Sarah Watling at Heffers Bookshop for a talk on her biography of the Olivier sisters. The event will be chaired by Dr Gill Sutherland of Newnham College.
The four Olivier sisters were emancipated, determined and wild in an age when society punished women for being so. Margery and Daphne studied at Cambridge at a time when education was still thought to be damaging to ovaries. There they met Rupert Brooke and formed the Neo Pagans, initiating a web of entanglements that would challenge even the sisters' unbreakable bond. Drawing on recently available personal documents and interviews with their descendants, Noble Savages brings the four sisters in from the margins, tracing lives that span the colonial leisure of the Caribbean, the bucolic life of Victorian progressives, the frantic optimism of Edwardian Cambridge, the bleakness of war, their links with the Bloomsbury Group, and a host of evolving philosophies for life over the course of the twentieth century.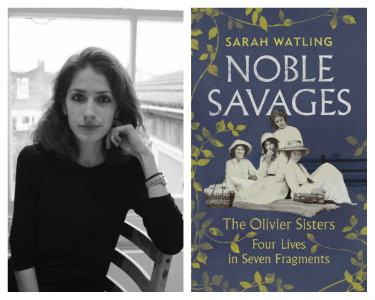 Sarah Watling was the 2016 winner of the Tony Lothian Prize. She holds a degree in history from the University of Cambridge and a master's degree in historical research from the University of London. Noble Savages is her first book.
Dr Gill Sutherland, Fellow Emerita, taught and directed studies in History at Newnham College from 1965 to 2007. She continues to research and write, maintaining interests in the social and political history of education, and that of women in particular.
Tickets for the event are priced at £6 in advance or £7 on the door, and can be purchased through this page, by calling 01223 463200 or in person at Heffers bookshop. Please note that tickets are transferable but non-refundable.
Like this? See a full list of our forthcoming events by clicking here.
Author Photo Credit: Julian Walton